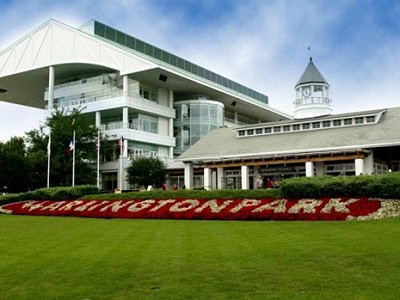 Arlington Park is an easy train ride from downtown.  Take the Metra Union Pacific Northwest line with an $8 weekend pass good for unlimited Metra rides on Saturday and Sunday ($6.25 one-way) and get off at Arlington Park.  The track is adjacent.  Trains run every two hours on weekends.
General Admission:  Entrance fees vary by date. A typical Saturday: Adults $8/Kids 4-17 $4.  Fridays and Sundays $8/$3. Special entrance fees may apply on holidays and special events. Purchase tickets here.
So an afternoon of fun on a Saturday starts at $22 plus whatever you gamble and consume.
Gates open at 12:00pm on Saturday-Sunday.  From May-August post time is 1:15PM and the last race is around 4:45PM.
You can take the Metra to the track at either 10:30AM-11:20AM and wait for the gates to open or at 12:30PM-1:20PM and miss the first race.
On Saturday's the Metra train back downtown is at 4:29PM or 6:29PM so you'll either have to leave before the 8th race or wait at Ditka's around the corner.  On Sunday's the train is at 5:29PM.
Arlington offers a wide range of food and beverage options. Click here. Call 847-870-RACE (7223) for reservations. They also allow you to bring in non-commercially prepared food and non-alcoholic beverages.  You have to buy a $5 cooler pass.  Complete carry-in rules.  There's also the aforementioned Ditka's around the corner at 2000 Euclid, 847-496-3800.
If you decide to sneak out early from work on a Friday gates open at 2:00pm and racing starts at 3:15PM-6:45PM.  There's a train to Arlington at 1:30-2:20PM.  Metra to downtown is at 6:29PM or 8:29PM.  Regular Metra fares apply.  On Fridays they have $3 Miller drafts and live music at the Miller Lite Party in the Park.
On select Sundays there are kids activities including pony rides, a petting zoo and specialty kid's meals in the Picnic Grove.