Chicago on the Cheap Neighborhood Guide: New Eastside.
The New Eastside isn't new, the first building in the neighborhood was built in 1963 (400 E. Randolph), it's name is just newish. As recently as 12 years ago it only had five buildings now it has twelve.
The neighborhood borders are the Chicago River on the north, the lake on the east, Randolph Drive on the south and Columbus Drive on the west.
The part of the New Eastside, known as LakeShore East, is the area around the perimeter of LakeShore East Park.
LakeShore East is located on two levels.
Upper Randolph
How to get there: Walk east down Randolph past Michigan and Columbus. Look for the Village Market sign just past the Blue Cross Blue Shield Building (BCBS 300 E. Randolph).  Turn left.
On this level is:
Brown Bag,  340 E Randolph St, (312) 496-3999. Fresh, fast casual. Pick your protein, vegetable, vehicle salad, bowl etc.
Chase Bank 340 E. Randolph
Mariano's Fresh Market, 333 E Benton Place, Chicago 312-228-1349 Entrances at upper Randolph Street (and Park Level Benton Drive). Happy Hour:  7 days a week 4-8pm;  Wed and Fri 4-7pm special wine events. Check the website or call the store to confirm.
Mariano's, now owned by Kroger, is a full service grocery store with great takeaway food.  You can also drink there on the cheap.  Buy your adult beverages and partake in the bar in the liquor department or in the cafe. In summer booze it up outside on the patio which is jammed many summer nights with people eating and drinking on the cheap. Mariano's also has free wifi in their cafe.
MingHin, 333 E. Benton Place, Chicago  (312) 228-1333. Entrance off upper Randolph Drive just west of Mariano's. Under review.  Outdoor seating area available in summer.
Lower level: There are two ways to get there:
Walk into the glass enclosed area behind Mariano's and take the escalator down to ground level.  You're in LakeShore East! Or
Walk east on Randolph Drive past the Village Market sign and at the street Field Drive turn left and walk down.
When you exit the glass enclosed escalators on the left is:
Mezcalina 333 E. Benton Place, Chicago   312-946-8885 Entrance at Park level. Happy Mezcalina has paper in it's windows saying "Check out their new look on Cinco de Mayo week" but they did not reopen. Very good margarita's and guacamole.
When you exit the glass enclosed escalators to the right (walking east) is the following:
Eggy's Diner, 333 E Benton Pl #103, (773) 234-3449. Serviceable breakfast and lunch food. Open 7AM-3PM.
Subway, 333 E Benton Pl, (312) 448-8084. Open 24 hours.
Cuticle Nail Salon, 333 E Benton Pl #105, (312) 888-3627.
III Forks, 180 N Field Blvd,  (312) 938-4303. This is a chain steakhouse from the same owners of Cantina Laredo.  They have Happy hour M-F 4-6PM. 1/2 off draft beer and select cocktails and $1 oysters.  In summer the rooftop terrace is one of the best in the city with beautiful views of LakeShore East Park.
When you exit the glass enclosed escalators and walk straight ahead is :
LakeShore East Park: This "hidden" park is owned by the Chicago Park District but is funded by the area developer Magellan. It has a small children's play area and an enclosed dog park and benches and water features for lounging (in summer).
Cafe Rom, Shoreham 400 E. South Water, (312) 981-7766. An outlet of a tiny chain located in The Shoreham apartment building that serves good Italian coffee, sandwiches and gelato.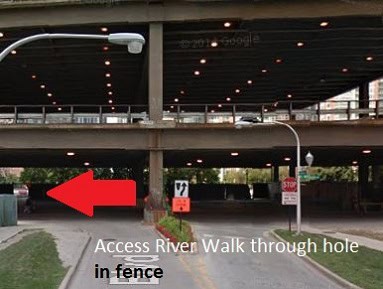 Access to the River Walk When you exit the glass enclosed escalators behind Mariano's walk across the park (see map). You will walk under lower and upper Wacker Drive (the City Auto Pound will be on the right)  through a hole in the fence (yes really) and you will be on the River Walk. Once you enter the river walk if you turn right you will merge with the Lakefront Trail. Eating and Drinking along the River Walk.
Access to the Lakefront Trail. This is trickier.  When you exit the glass enclosed escalators behind Mariano's turn right.  Walk along the sidewalk until it curves left.  Look for an opening under Harbor Drive and walk through toward Lake Shore Drive.  There is an underpass under LSD that takes you to the Lakefront Trail near Friendship on the Lake.
Lakefront Trail North and Lakefront Trail South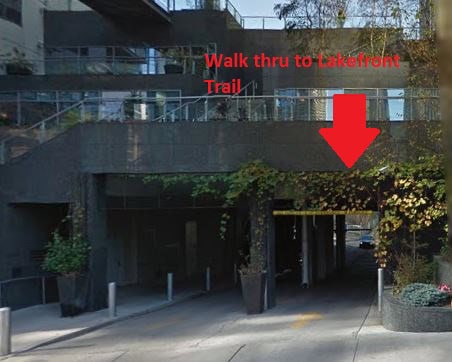 Other businesses in the area:
Randolph Drive/Harbor Drive
Blue Cross Blue Shield, Lower Level: Starbucks 312.233.0012 and Dunkin Donuts 312.240.0977.
Seven, 400 E. Randolph, 7th Floor.  Located on Upper Randolph Drive. I wouldn't call this a dive bar but it definitely serves the cheapest cocktails in the neighborhood. The drawback to this bar is the doorman will take your ID and hold it until you leave the bar. Don't forget to pick it up! To access this walk east on Randolph toward the building with the big domed swimming pool just east of Field Drive.
Bockwinkel's, Harbor Point (black building) 155 N. Harbor Drive Enter Lobby take stairs down to Lower Level.
Columbus Drive
Filini, Radisson Blu Aqua Hotel, 221 N Columbus Dr, (312) 565-5258.
CVS, 205 N Columbus Dr, (312) 861-0315.
Fun fact:  The Lake Shore Drive S Curve used to run right through the middle of the New Eastside until LSD was "straightened" in 1982-1987. Driving the old S curve involved two harrowing 90 degree turns resulting in endless crashes.