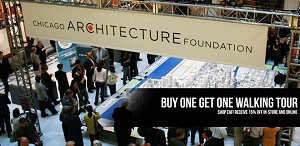 Discount Chicago Architecture Foundation tours. Every 2nd Friday of the month the Chicago Architecture Foundation (CAF) is offering a buy one ticket, get one free deal for all Core Walking Tours. You must purchase tickets at the CAF box office. All core tours are $20 each.
Also when shopping each 2nd Friday and good through Saturday, receive 15% off in-store and online for.  Use the online code 2NDFRIDAY15 or in-store mention "2nd Fridays".
Location:
Chicago Architecture Foundation
224 South Michigan Avenue
312-922-3432 for general info
312-922-8687 to book a tour
Core Walking Tours (subject to change):
Historic Skyscrapers
Historic Treasures of Culture and Commerce
Art Deco Skyscrapers: Downtown
Evolution of the Skyscraper
Chicago Modern
Chicago Masterworks, Connecting Old and New
____________________________________________________________________________________________
The CAF just celebrated it's 50th Anniversary. Here's a brief history:
1966 A group of local architects join together in 1966 to form the Chicago School of Architecture Foundation in order to save Glessner House. The Chicago School of Architecture Foundation eventually bought it for $35,000 in 1966, and spun off Glessner House in 1994.  . The CAF is founded.
1971 The first class of 33 docents graduates from the CAF training program and starts leading walking tours for $1.
1983 CAF starts forst River cruise.
1992 CAF moves to present location at the Railway Exchange Building.
2009 The 320 square foot Chicago model is completed featuring 400 blocks of the city and over 1,000 buildings in miniature.
2011 CAF hosts the inaugural Open House Chicago a free city weekend architecture festival.
2014 The ArcelorMittal Design Studio opens as a collaborative learning space for students and families.  Lego donated 500,000 Lego's for use in the space.