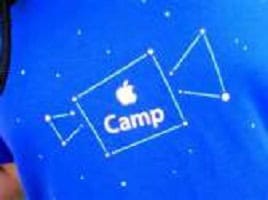 Lights! Camera! Fun! If your kid has a director's eye, or is just brimming with creativity, you may want to sign him or her up for Apple Camp.
Sign up now to be notified when registration opens for this summers sessions.
These FREE three-day camps (most in mid-July to early August) are for kids ages 8 to 12. Each workshop runs about 90 minutes and the young aspiring artists will storyboard their ideas, shoot video, create a soundtrack and put it all together in iMovie on a Mac. Or, they can creater interactive books using iBook. The creative journey ends with campers debuting their masterpieces at the Apple Camp Film Festival. Space is limited and workshops fill up quickly, so register now for a super-creative summertime adventure. Each child is limited to no more than one Apple Camp workshop.
Copyright Living on the Cheap. The post Free Apple Camp for movie-making kids appeared first on Living On The Cheap.