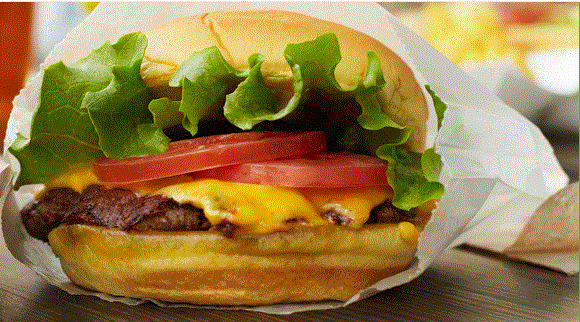 Free burger at Shake Shack. Download the new Shake Shack App, create an account and use the promo code "shackappy" at checkout for a free single ShackBurger. Valid is good at all locations except airports, stadiums and ballparks.
Here's the blog post announcing it, and find out more about the app at:  shakeshack.com/app. This offer is good until Tuesday, February 28, 2017.
A Shackburger is a cheeseburger topped with lettuce, tomato, and ShackSauce and retails for around $5.29.
Locations:
River North, Chicago, 66 E. Ohio Street, 312.667.1701
Chicago Athletic Association, 12 S Michigan Ave, 312.646.6005
Old Orchard, Skokie, 4999 Old Orchard Center, Space L28, Skokie, IL 60077, 847.380.1240
_________________________________________________________________________________________________
About Shake Shack
Twelve years after opening its first location at Madison Square Park in New York City, Shake Shack® will open its 100th Shack at the Boston Seaport, located at 77 Seaport Boulevard, on Tuesday, August 16th.

"From our first-ever Shack in Madison Square Park twelve years ago, to so many incredible places in between, opening our 100th Shack at Boston Seaport is an epic milestone for us," said Shake Shack CEO Randy Garutti. "We're overwhelmed by the love and enthusiasm from our fans around the world, and this moment wouldn't be possible without them. Here's to bringing more Shacks to local communities around the world!"

Shake Shack is a modern day "roadside" burger stand known for its 100% all-natural Angus beef burgers and flat-top Vienna beef dogs (no added hormones and no antibiotics ever), 100% all-natural cage-free chicken (no antibiotics ever), spun-fresh frozen custard, crinkle cut fries, craft beer and wine (available at select locations) and more.

The company sprouted from a hot dog cart in Madison Square Park in Manhattan, created by Danny Meyer's Union Square Hospitality Group (USHG) to support the Madison Square Park Conservancy's first art installation "I ♥ Taxi." The cart was quite the success, with Shack fans lined up daily for three summers.

Shake Shack was officially born in July 2004 when USHG won the bid to open a permanent kiosk in the Park. Its green architecture was designed to make it harmonious with the park and its surroundings. An instant neighborhood fixture, Shake Shack welcomed people from all over the city, country and world who gathered together to enjoy fresh, simple, high-quality versions of classic American fare in a majestic setting.

Shake Shack remains a fun and lively community-gathering place with widespread appeal. From its premium ingredients and caring hiring practices to its environmentally responsible designs and deep community investment, Shake Shack's mission is to Stand For Something Good®. Since the original Shack opened in 2004, the company has opened multiple locations in 15 states and the District of Columbia, as well as international locations in London, Tokyo, Istanbul, Dubai, Moscow, Seoul and more.