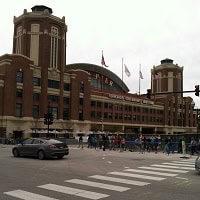 Free Shakespeare at Navy  Pier. Enjoy a free performance of Twelfth Night
When:  Thursday and Friday, July 14-15, 2016, 6:30PM-7:45PM
Where:  600 E. Grand, at Polk Bros Park #2 on Map This year they've moved it to East End Plaza (outside #43 on the map) all the way out on the far east side of the Pier. Since this whole area is concrete you'll want to bring chairs. Also since this is 1/2 mile out on the Pier you may want to take the internal Navy Pier Trolley that I discovered recently.
Navy Pier has a free trolley that goes back and forth along the north side of the pier from Giordano's at the main entrance of the pier to Entrance 1. Entrance 1 is located mid-way along the Pier and across from Riva which is located on the south side of the pier. This trolley runs from 10AM daily to one hour before closing on Wednesday,  Saturday and special Fireworks nights. On other nights it runs until 1/2 hour before closing. This trolley doesn't run on a schedule as it depends on traffic along the north side of the pier where the parking garage entrance and exits are located.
Grab a blanket, chair, pack a picnic and head to Navy Pier.  A 75-minute mash-up of Shakespeare's most memorable characters and celebrated plays is coming to Navy Pier.  Against the backdrop of our beautiful city, experience the entertaining, hilarious, romantic and compelling words that Shakespeare penned more than 400 years ago.
At each Shakespeare performance around the city a specially equipped truck rolls into the park, a stage unfolds, and a company of professional actors shares Shakespeare's jubilant, music-infused romantic comedy with families and neighbors of all ages.
Twelfth Night tells the tale of a young girl named Viola, separated from her twin brother in a shipwreck and left all alone in a strange land. Resilient, Viola adopts a male disguise and enters into the service of Duke Orsino—only to find herself right in the middle of a triangle of unrequited love.
Other relevant posts:
_________________________________________________________________________________
Navy Pier History
1909
Daniel Burnham creates the "Master Plan of Chicago" which originally envisioned five piers. Eventually, only one 1.5 mile long recreational pier with freight and passenger ship docking facilities was commissioned to be built near the mouth of the Chicago River.
1914
Construction begins under the direction of the nationally known architect Charles Sumner Frost. Completed in two years, construction of the Pier costs $4.5 million.
1916
Municipal Pier opens to the public. It is the only pier to combine the business of shipping with the pleasure of public entertainment.
1917–1918
When the U.S. enters World War I, the Pier houses several regiments of soldiers, Red Cross and Home Defense units as well as a barracks for recruits.
1918–1921
The Pier boasts its own streetcar line, theater, restaurants and an emergency hospital.
1921–1922
The Pier enters its "golden age" of recreational and cultural activity as Chicago Mayor William H. Thompson's "Pageants of Progress" draw nearly a million visitors during 15 days of events.
1926
The Chicago Federation of Labor establishes its pioneer radio station and transmission for WCFL, "the voice of labor," in the north tower.
1927
Municipal Pier is officially renamed Navy Pier as a tribute to Navy personnel who served during World War I.
1929
The Stock Market Crash and the Great Depression, as well as the increased use of automobiles resulted in the decline of freight and passenger ship activity. During the 1930's, the Pier housed various New Deal agencies.
1930–1940
Navy Pier's freight and passenger traffic declines with the onset of the Great Depression, though cultural and recreational use continues.
1933
Century of Progress Exposition (World's Fair) on the lakefront draws 1,500 conventions and 1.5 million visitors.
1942
Pilot training orientation commenced at Navy Pier. Eventually, 15,000 pilots were qualified for military service, including a young airman named George H.W. Bush, the future President of the United States. As many as 200 WWII planes still rest at the bottom of Lake Michigan as a result of accidents during training.
1945
The Navy operated various training programs at Navy Pier throughout the war. Those enrolled often became aviation machinist's mate, metal smiths or diesel engine technicians. By the time training ceased in July 1946, some sixty thousand people—including sailors from Great Britain, Canada, Brazil and Peru—were trained at Navy Pier.
1946
The Navy moves out and the University of Illinois takes up residence, transforming the facility into a two-year undergraduate branch campus that remains in existence until 1965. The Navy's main mess hall becomes a giant library considered "the largest reading room" in Illinois.
1950—1960
The Pier handles 12-16 huge trade shows/exhibits and social events annually. Until McCormick Place opens in 1960, all trade shows in Chicago are held either on Navy Pier or at the Union Stockyards Amphitheater.
1959
The Pier was widened by 100 feet with the construction of the South Dock. At its peak in 1964, Navy Pier handled 250 overseas vessels annually and was one of the greatest inland ports in the world.
1960
The city's first Holiday Folk Fest is held at the Pier, featuring food and products from countries represented by Chicago's many ethnic groups.
1965
The University of Illinois moves from Navy Pier to its new Circle Campus, just west of the city.
1967
Fire destroyed the original McCormick Place. Navy Pier helped keep many conventions and trade shows in Chicago for the four years it took to rebuild McCormick Place.
1971—1975
After McCormick Place re-opened, Navy Pier falls into disuse.
1976
The spectacular Grand Ballroom undergoes a renovation as part of the city's observance of the country's Bicentennial Celebration.
1977
City Hall designated Navy Pier as a Chicago Landmark.
1978–1982
Navy Pier hosts ChicagoFest, drawing millions of visitors with music, food and entertainment.
1982-1994
Navy Pier abandoned and left to deteriorate into state of disrepair.
1989
The Illinois General Assembly created the Metropolitan Pier and Exposition Authority (MPEA)  to manage and operate both McCormick Place and Navy Pier. The Authority moved swiftly to redesign and rehabilitate Navy Pier.
1994
As part of the $150 million Navy Pier redevelopment project, improvements are made to nearly every aspect of the Pier. The 1,500-seat outdoor Skyline Stage opens to the public.
1995
The newly renovated Navy Pier re-opened, featuring a mix of year-round entertainment, shops, restaurants, attractions and exhibition facilities.
1998
Navy Pier hosts the City of Chicago's first-ever Tall Ships festival.
1999
Chicago Shakespeare Theater opens.
2000
The Smith Museum of Stained Glass Windows debuts at Navy Pier.  This permanent display of 150 stained glass windows is housed in an 800-ft.-long series of galleries along the lower level terraces of Festival Hall. 2015 This has been moved and reduced to a dozen windows.
2010
MPEA Trustee changes governance structure. This change shields Navy Pier's finances and governance from public access and scrutiny. Despite protests from media and other public watch dog groups the Pier Authority now operates in secrecy.
2011
NPI unveils The Centennial Vision, a new redevelopment framework that reimagines Navy Pier.
2014-ongoing
Construction continues on the Centennial Plan.