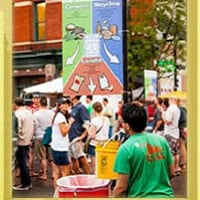 The Green Music Fest Chicago celebrating environment sustainability is this weekend in Wicker Park.
When:  June 18-19, 2016 Sat. and Sun. 12PM-10PM
Where: Wicker Park, Damen Avenue between North Avenue and Schiller
Admission free.  $5 donation  No info on who benefits from the gate receipts.  (Chicago residents aren't required to pay entrance fees to street festivals.  More info here).
In addition to eco-conscious beer and a broad assortment of vendors showcasing green products and services, the event features live performances from big-name music acts (one stage is bike-powered) and Family Fun events from 12PM-5PM.
Mission Statement
Wicker Park's Green Music Fest serves as a platform to educate and encourage its 30,000+ attendees to embrace green initiatives, transportation, and products that improve our daily lives and promote sustainable living by leaving a smaller footprint.