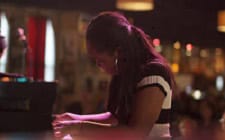 This jazz series showcases Chicago jazz musicians, selected by the Hyde Park Jazz Society, on the third Tuesday of every month.
When:  third Tuesday of the month.  First set 7:30–8:30 pm; second set 9–10 pm
Where:  Café Logan,  915 E 60th St at Drexel Avenue, Free parking lot at 60th and Drexel Ave
Admission free.  RSVP on facebook.
This series showcases Chicago jazz musicians, selected by the Hyde Park Jazz Society, on the third Tuesday of every month. Enjoy beer, wine, a full coffee bar, food, and some of the best jazz the city has to offer. Café Logan will be open until 10 pm. Free parking lot at 60th and Drexel Avenue
Future dates:
July 21, Aug 18