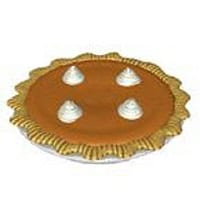 March 14 is Pi Day. 3.14, get it? The Illinois Science Council has arranged for Pi Day specials in the Chicago area. Most of them are, no surprise, for pie.
Mention the Illinois Science Council or Pi Day when you order!
BAKERIES:
Alliance Bakery, 1736 West Division St.., Chicago, 773-278-0366, Saturday, 6:00am-9:00pm, . Offering special "pi" cookies for $3.14.
Bennison's Bakery, 1000 Davis St., Evanston, 847-328-9434, Saturday, 6:00am-5:30pm, .  Offering individual pies (Boston cream, strawberry-rhubarb or apple) for $3.14 while supplies last.
Café Selmarie, 4729 N. Lincoln Ave., (773) 989-5595, 8am-9pm, Offering pie slices – Banana Oreo Cream, Chocolate Cream, Lemon Meringue, Apple Streusel, Cherry Streusel, Pecan – for the special price of $3.14.
Dinkel's Bakery, 3329 N Lincoln Ave, (773) 281-7300, 6:00am-7:00pm,. Will be offering their full selection of pies in both mini ($3.14) and 9″ deep dish ($9.86).  Additionally, quiche will be included in that pricing.  There will also be  pie inspired donuts (apple, cherry, etc).
First Slice, 4664 N Manor Ave, (773) 267-0169, 8:00am-7:30pm; 5357 N Ashland Ave, (773) 275-4297, 10:00am-9:00pm; and 4401 N Ravenswood Ave, (773) 506-7380, 8:30am-7:30pm, . Offering special deal on pie slices ALL DAY LONG — buy 1, get 1 free. You can have pie for breakfast, lunch, and dinner!  Also, our Manor location will be having a Pi Day Party complete with live music, starting at 2pm.
Hewn Bread, 810 Dempster St., Evanston, 847-869-4496, Saturday, 8:00am-1:00pm, . Offering a special Pi Country loaf with 3.14 stenciled on it with rice flour, apple galettes specially priced at $3.14, and a drawing among customers in the store at 9:26am for a special prize.
Jarosch Bakery, Inc, 35 Arlington Heights Rd, Elk Grove Village, IL 60007, (847) 437-1234, 6:30am-6:30pm, Spend $20 get a $3.14 discount on a regular pie.  Mini-pies  $2.95 plus tax.
Pleasant House Bakery, 964 W 31st St., (773) 523-7437, 11:00am-10:00pm, . Offering special handmade savory award-winning Royal pies (British-inspired meat and vegetarian pies) and sweet Banoffee Pie (housemade toffee, fresh bananas, and whipped cream), among other pie-related goodies.
Sugar Bliss Cake Boutique, 115 N Wabash, (312) 845-9669, . Offering cupcakes at $3.14 each (excluding tax) when you say "Pi Day."
Swedish Bakery, 5348 N Clark St., (773) 561-8919, Saturday 6:30am-5:00pm, Offering mini apple, blueberry and cherry pies for $3.14.
Sweet Cakes Bakery, 1223 N. Milwaukee Avenue, (773) 772-5771, 7:00 am-2:00 pm, . Offering mini fruit pies for $3.14 plus tax. CONFIRMED
Sweety Pies Bakery, 8042 Lincoln Ave, Skokie, IL, (847) 213-0900, 7:00am-6:00pm,. All pie slices will be $3.14 all day.
Swirlz Cupcakes, 705 W. Belden, Chicago, 773-404-2253, Saturday, 10:00am-7:00pm, Offering "Pi" and "Einstein" cupcakes on sale for $3.14.  A special treat at 3:14 PM, the first customer who walks in and mentions "Illinois Science Council" (or drawing for all those in the store at that minute) will win a free 6-box with three Pi and three Einstein cupcakes.
PIZZA:
My Pie, 2010 N Damen Ave, (773) 394-6900, 11:00 am- 10:00 pm, . Offering a thin slice of pizza pi & a regular fountain drink for $3.14.
RESTAURANTS:
Artopolis Chicago, Bakery, Café & Agora, 306 S. Halsted St., Chicago, 312-559-9000, Saturday 9am-1am, .  Offering their signature menu item, a savory pie called Arto-PI-tas, for only $3.14 (usually $4.50) all day.
Joe's Seafood, Prime Steak & Stone Crab, 60 E. Grand Av., Chicago, 312-379-562, Saturday, 11:00am – 12:00am, . Offering slices of freshly baked pies for $3.14 all day, including Havana Dream Pie, Banana Cream Pie with Foster Sauce and Joe's world famous Key Lime Pie.