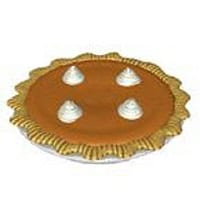 March 14 Pi Day deals. The Illinois Science Council has arranged for Pi Day specials in the Chicago area. Most of them are, no surprise, for pie.
Mention the Illinois Science Council or Pi Day when you order.
BAKERIES:
Alliance Bakery, 1736 West Division St., Chicago, 773-278-0366, Saturday, 6:00am-9:00pm, . Offering special "pi" cookies for $3.14.
Bennison's Bakery, 1000 Davis St., Evanston, 847-328-9434, Monday, 6:00am-7:00pm. Offering individual pies in cherry, apple, Boston cream, and chocolate cream for $3.14, while supplies last.
Brown Sugar Bakery, 328 E. 75th St, Chicago, 773-224-6262, Monday 10:00am-7:00pm, .  Offering several pies decorated with the "pi" sign: sweet potato pie adorned with a pi sign in chocolate, &  Key lime pie or lemon ice box pie adorned with a pi sign in whipped cream.  Whole pies or by the slice.  Also, offering "pi"-themed cupcakes.
Café Selmarie, 4729 N. Lincoln Ave., (773) 989-5595, Monday 8:00am-3:00pm, Offering $3.14 off whole pies including apple, cherry, blueberry, banana Oreo, coconut cream, and chocolate cream. Offer these specials on Saturday 3/12 and Sunday 3/13 as well! On 3/14 the bakery counter will open early at 8:00am (normally not open until 11am) for Pi Day specials.
Cold Storage, 1000 W. Fulton Market. Three kinds of pie for $3.14 per slice.
Cupcake Counter, 229 W Madison St, Chicago, 312-422-0800, Monday 7:00 AM-6:00 PM. Serving up Pi with our Apple (Pi)e Cupcake topped with Caramel Buttercream. How much? Naturally it's  $3.14—regular price $3.50. Red Velvet Pi cupcakes are also available.
Delightful Pastries, 131 N. Clinton St., French Market, Chicago, 312-234-9644, Monday 7:00am– 7:00pm; Old Town Café & Store, 1710 N. Wells St., 312-255-0724, 8:00am-5:00pm; Jefferson Park store, 5927 W. Lawrence Av., Chicago, 773-545-7215, 6:00am-5:00pm,
First Slice Pie Cafe, 4401 N. Ravenswood Av. 773-506-7380, Monday, 8:30am-7:30pm, 4664 N. Manor, 773-267-0169, Monday, 8:00am-6:30pm, 5357 N. Ashland Av., 773-275-4297, Monday, 10:00am-9:00pm, Chicago, and 1823 Church St, Evanston, Monday 11:00am-4:30pm. Offering buy 1 slice, get 1 free (only slices, not whole or mini pies), on all flavors all day long.
Goddess & the Baker, 33 S. Wabash Ave, Chicago, 312-877-5176, Monday 7:00am-8:00pm. Offering a selection of mini pies.  Buy a mini pie and get a scoop of ice cream to make it 'a la mode' for free.
Jarosch Bakery, Inc, 35 Arlington Hts. Road, Elk Grove Village, 847-437-1234, Monday, 6:30am-6:30pm. Offering mini fruit pies (4.5″ double crust), 8″ fruit pies and 9″ fruit pies with pi-shaped vent holes while supplies last. Also offering cream pies: banana, chocolate and lemon whipped cream pies with chocolate pi symbols on top. With a $20.00 purchase, get $3.14 off the price of a large pie.
Lovely: A Bake Shop & Lovely, Too, 1130 N. Milwaukee Ave, 773-572-4766, Monday, 7:00am-6:00pm, 1138 W. Bryn Mawr Ave, 773-252-5335, Monday, 7:00am-7:00pm, Chicago. Offering Albert Einstein or 'slice of (pi)e' decorated sugar cookies.
Magnolia Bakery, Block 37, 108 N. State St. Personal-sized caramel apple and blueberry hand pies for $4 each.
Shake Shack, 12 S. Michigan Ave. location only. Bang Bang Pie Oh My concrete $3.14.
Swedish Bakery, 5348 N Clark St., 773-561-8919, Monday 6:30am-6:30pm. Offering mini apple, blueberry and cherry pies for $3.14 each.
Sweety Pies Bakery, 8042 Lincoln Ave., Skokie, 847- 213-0900. Open specially this Monday, 10:00am-4:00pm. Offering pie slices for $3.14 all day and $3.14 off large pies (normally $21.25).
Swirlz Cupcakes, 705 W. Belden, Chicago, 773-404-2253, Monday, 10:00am-7:00pm. Offering "Pi" and "Einstein" cupcakes on sale for $3.14. A special treat at 3:14 PM, the first customer who walks in (or a drawing will be held for all in the store at that minute) and mentions "Illinois Science Council" will win a free 6-box with three Pi and three Einstein cupcakes.
Warm Belly Bakery, 1148 W. Monroe St., Chicago, 312-509-3115, Monday, 6:00am-7:00pm. Offering Pecan Pi cookies for $3.14.
PIZZA:
Blaze Pizza, 953 W. Belmont St., 227 E. Ontario St., and 24 S. Clinton in Chicago, plus 1737 Sherman Av., Evanston, and 4999 Old Orchard Center Mall, Skokie. Store hours vary by location, so check. Offering individual pizzas for $3.14 each.
Frankie's 5th Floor Pizzeria, 900 N. Michigan, 312-266-2500. Buy one slice of pizza and get a second slice for only $2. Offering five varieties of classic, hand-thrown pizza on house-made, thin crust. Frankie's pizza is available for lunch, 11.30 a.m. until 4 p.m. This offer is valid at the pizza counter only.
My Pie, 2010 N Damen Ave, (773) 394-6900, 11:00 am- 10:00 pm, . Offering a thin slice of pizza with a regular fountain drink for $3.14.
Parker's American Restaurant, 1000 31st St., Downers Grove, 630-960-5700. Select personal pizzas for $3.14 for math students and teachers, and $5.50 for the mathematically challenged, offered on 3/14 and 3/15, plus E=MC2 daiquiris for $8.
OTHER:
Microsoft stores (three in the Chicago-land area) and microsoftstore.com. On 3/14 only, 31.4% off select Dell PCs. As part of Spring Sale starting March 14, the following offers will be available:
$100 off select Surface Pro 4 models
$100 trade-in credit for a trade-up to Surface Pro 4 (this offer can be combined with Surface Pro 4 models discounted by $100)
Up to 50 percent off select Signature Edition PCs, such as the Dell Inspiron 15
Customers can still take advantage of existing offers, including $75 off Microsoft Band 2