Potbelly: 40% off Original Sandwich
When: June 1, 2017 11AM-3PM
Where: Participating shops Locations here.
To all Potbelly "subscribers" check your email for a coupon to get 40% off. To celebrate their 40th anniversary you can get an Original sandwich for 40% off by printing the email or showing the email in store. Valid in-shop only, no mobile orders or phone orders.
Their Facebook page doesn't mention the coupon so anyone can probably get the deal! Enjoy!
Find more restaurant deals and coupons here.
Here's what it looks like: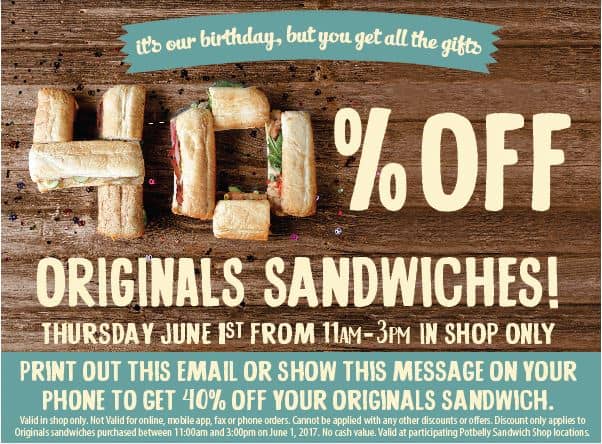 _________________________________________________________________________________
About Potbelly
How it All Began
A quiet antique store turns into a happening sandwich shop
Long before the sandwiches were toasted and cookies were on the straws, there was a young couple who owned an antique shop. This quirky shop of memories was doing well, but the determined pair knew they could always do better.
They decided to start serving lunch to their curious, collecting customers. Little did they know that the simple sandwiches served in this unique atmosphere would cause such a fuss, with lines reaching out the door and around the corner. As time passed the "little antique shop that could" was slowly turning into quite the lunchtime getaway, complete with toasty warm sandwiches, homemade desserts and even live music.
In 1996, an ambitious, entrepreneurial young man named Bryant Keil bought the original store on Lincoln Avenue in Chicago, Illinois. Together with his team, Bryant set out to spread the Potbelly love across the country, creating shops with the same neighborhood feel as the original.
Today, the magic continues with more than 400 Potbelly Sandwich Shops in neighborhoods around the country.