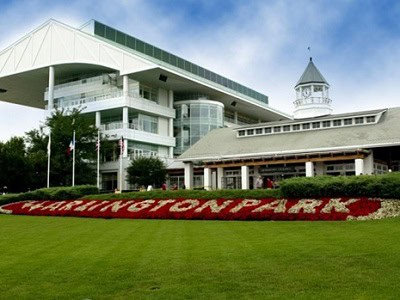 A Day at the Races at Arlington Park.
Getting there
Arlington Park is an easy train ride from downtown. Take the Metra Union Pacific Northwest line with an $8 weekend pass good for unlimited Metra rides on Saturday and Sunday ($6.50 one-way regular fare) to the  Arlington Park station.
You will be assessed a $5 surcharge for buying a ticket on the train if an agent or vending machine is available at the station where you boarded. You can also buy a weekend pass on the Ventra app.
Admission
General Admission:  Entrance fees vary by date. A typical Saturday: Adults $8/Kids 4-17 $4.  Fridays and Sundays $8/$3. Additional entrance fees may apply on holidays and special events. New in 2017:  There will be a $2 surcharge per ticket if you buy your tickets at the gate. Purchase tickets in advance here.
Regular Hours
Gates open at 12:00pm on Saturday-Sunday.  From May-August post time is 1:15PM and the last race is around 4:45PM.
You can take the Metra to the track at either 10:30AM-11:20AM and wait for the gates to open or at 12:30PM-1:20PM and miss the first race.
On Saturday's the Metra train back downtown is at 4:29PM or 6:29PM so you'll either have to leave before the 8th race or wait at Ditka's around the corner.  On Sunday's the train is at 5:29PM.
Dining
Arlington offers a wide range of food and beverage options. Click here. Call 847-870-RACE (7223) for reservations. They also allow you to bring in non-commercially prepared food and non-alcoholic beverages.  You have to buy a $5 cooler pass.  Complete carry-in rules.  There's also the aforementioned Ditka's around the corner at 2000 Euclid, 847-496-3800.
Party in the Park Fridays
If you decide to sneak out early from work on a Friday gates open at 2:00pm and racing starts at 3:15PM-6:45PM.  There's a train to Arlington at 1:30-2:20PM.  Metra to downtown is at 6:29PM or 8:29PM.  Regular Metra fares apply. $3 Miller Lite 16 oz drafts, $2 burgers, hot dogs, and more, live bands, and life-size yard games. Musical entertainment into the evening. College students get free general admission on Friday's with valid ID at the box office.
Family Day Sundays
On select Sundays there are kids activities including pony rides, a petting zoo and specialty kid's meals in the Picnic Grove.