Load $20 get $10 bonus Amazon Cash. Amazon Cash is a new method to load value onto your Amazon account. As a way to promote the new service, Amazon is giving away free money!  LAST CHANCE: This offer is good through through 11:59 pm (PT) July 31, 2017.
How it works
Click on this link and sign into your Amazon account. Amazon gives you a barcode linked to your account. You can get it as a text or print it out.
Then go to a participating merchant (CVS) and have the cashier scan the barcode and load cash.
Free money
Add $20 or more to your Amazon Balance with Amazon Cash and earn a $10 Amazon Credit towards your next purchase from Amazon.com.
Your discount will automatically be applied at checkout. This is a limited time offer, one per Amazon customer account.
The promotional credit expires on August 31, 2017. Click on the link and sign into your account.
You can apply the $10 promotion credit to gift cards
You can apply the $10 promotional credit to the purchase of gift cards on Amazon. I purchased an egift card to a restaurant I frequent.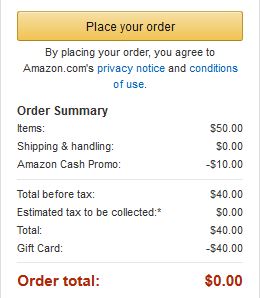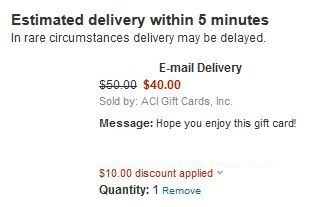 Amazon Cash Participating Merchants
Cumberland Farms
D&W Fresh Market
Fred's Pharmacy
Kum & Go
Sheetz
VG's Grocery
Family Fare Supermarkets
KwikTrip
Speedway
CVS Pharmacy (Target locations excluded)
GameStop
Terms and conditions
When you use Amazon Cash, you are purchasing and automatically claiming an Amazon.com Gift Card ("GC") to your account. GCs may be used only for the purchase of eligible goods on Amazon.com and certain of its affiliated websites.
Except as required by law, GCs cannot be redeemed for cash. No portion of your Amazon Balance may be transferred to another Amazon.com account. No expiration date or service fees. GCs are issued by ACI Gift Cards Inc., a Washington corporation.
Promotion Terms and Conditions:
Amazon Cash transaction must occur between 12:01 am (PT) on June 12, 2017 and 11:59 pm (PT) July 31, 2017.
Offer only applies to products sold by Amazon.com (look for "sold by Amazon.com" on the product detail page). Products sold by third-party sellers or other Amazon entities will not qualify for this offer, even if "fulfilled by Amazon.com" or "Prime Eligible".
Shipping charges and taxes may apply to the full value of discounted and free promotional items.
Offer limited to one per customer and account.
The maximum benefit you may receive from this offer is $10 off products sold by amazon.com.
You will receive an e-mail from Amazon that indicates the dollar amount of the promotional credit and that the dollar amount of the credit has been added to your customer account.
Promotional credit expires at 11:59 p.m. (PT) August, 31, 2017.
Amazon reserves the right to modify or cancel the offer at any time.
Offer is non-transferable and may not be resold.
Offer discount will be allocated proportionally among all promotional items in your order.
If any of the products or content related to this offer are returned, your refund will equal the amount you paid for the product or content, subject to applicable refund policies.
If you violate any of these terms, the offer will be invalid.
Unless an Amazon Gift Card is the stated benefit of the promotion, promotional codes (including those placed directly in accounts) may not be redeemed for Amazon Gift Cards.