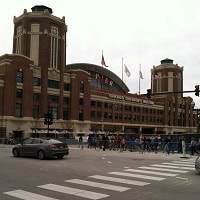 Most of the better food options at Navy Pier are pricey so you need to order selectively. If you're on a budget bring your own food and beverages in. You can still eat in the food court, the large communal seating areas past the food court, outside along the pier (weather permitting) or in the Crystal Garden. The food police won't drag you away.
If you're walking to the Pier from Michigan Avenue there's a Whole Foods at 255 E Grand Ave (at Fairbanks), (312) 379-7900.  If you're walking to the pier along Lake Shore Drive there's a Treasure Island grocery store at 680 N. Lake Shore Drive (at Erie), (312) 664-0400 (underpass between outer and inner Lake Shore Drive at Chicago Avenue 800N).
In the past I would say – skip eating there entirely.  As the Pier redevelops there are some new dining options. Here are other area cheap dining options in Streeterville, Malls on North Michigan Avenue,  River North, and Best Chicago Prix Fixe Lunch Deals.
Navy Pier Booze Rules: People who purchase an alcoholic beverage from a licensed vendor at Navy Pier are allowed to carry that drink throughout the Pier's indoor and outdoor areas in specially marked, disposable cups provided by the vendor. No BYOB allowed anywhere on the Pier.
Discount coupons: When you enter the Pier the first thing you'll see is the Guest Services Desk where you can collect a map.  If you're a member of AAA let the Guest Services person know and they will give you a sheet of discount coupons for attractions, dining and shopping.  I haven't seen the 2018 discounts yet. Check out last years in  this post.
Big City Chicken Excellent fried chicken by the piece ($6-$23, 2-8 pieces) or sandwiches $6.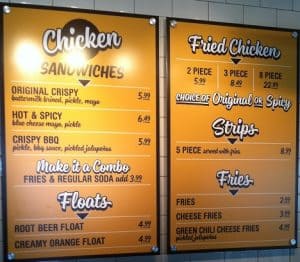 Frankie's Pizza by the Slice, (312) 546-7440.  Decent slices around $4-$5 and sandwiches under $10.
Goddess and the Baker, Sandwiches and salads. All items are around $10 and up.
Jimmy Buffett Margaritaville, 312-496-3840.  It's better than you would expect it to be. In winter there's happy hour M-F 3PM-6PM $3 beer and $5 Margaritas.  Get a $5 off $25 food purchase coupon from the Guest Services desk at the entrance to Navy Pier. They have nice outdoor seating also.
Porkchop Shop, BBQ's meats and sides.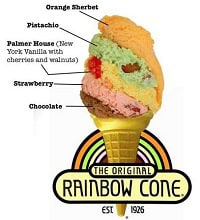 Twisted Lizard (no website): Fresh made tacos for $3.
Rainbow Cone: Chicago ice cream institution has a kiosk on the south dock across from Riva. Cones $8/Cups $7.
Snow Dragon Shavery: Flavored shaved snow topped with fruit, jellies, candy and other toppings $6.49. Also macaroons, macaroon ice cream sandwiches, bubble teas $3.99-4.49 and coconut water $3.99 in faux shell.
Tiny Tavern: opening later this summer will offer craft cocktails.
When the weather is nice grab food from any of the locations mentioned above and head east on the pier. Walk up the stairs beneath the ferris wheel and dine al fresco with great city and lake views. Or you can get up there from the elevator located between The Goddess and the Baker and Frankie's Slice shop.
Other possibly helpful info:  Harry Caray Tavern has a kid's menu but it's not posted online.  Note that Riva Café, while less formal and with a slightly different menu than Riva Crabhouse upstairs, has the same prices. They have a kid's menu $7.  If you want to eat at Riva's you may want to try going to Costco and buying discount gift cards for Phil Stefani Restaurants.  Riva is part of that restaurant group and Costco sometimes sells $100 gift cards for $74.99.