Chicago Blues Fest Free Preview Events. May and June are blues months in Chicago. Enjoy Chicago Blues Festival preview events.
Where: Chicago Cultural Center, 78 E. Washington
Chicago Blues Festival will be held Friday-Sunday, June 9-11, 2017 , Hours: 11am-9:30pm daily in Grant Park. The FREE festival has five stages with over 40 acts over three days.
Tuesday, June 5 6pm – Film Screening, Lay In Bluesland Claudia Cassidy Theater, 2nd Floor North
Thursday, June 8 Muddy Waters Mural Dedication 17 N. State Street-and State Street between Randolph and Washington Streets 12 Noon
The official dedication of the nine-story mural of Chicago blues legend Muddy Waters by Brazilian street artist Eduardo Kobra—and a lunchtime concert featuring Muddy Waters Legacy Band: Muddy's sons Mud and Big Bill Morganfield, John Primer, Rick Kreher, Studebaker John, Edward McDaniel, Donny Nichilo and Kenny "Beedy Eyes" Smith.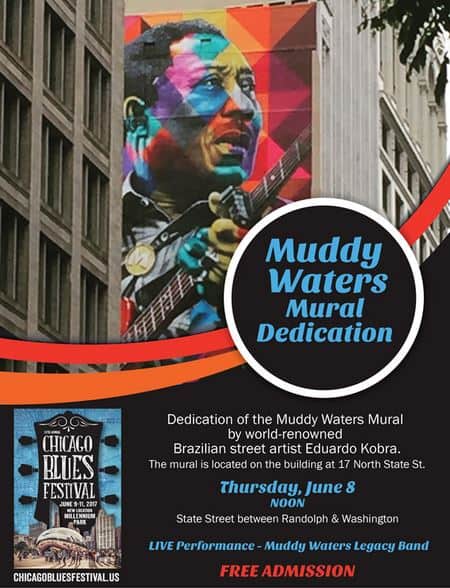 Part of the "Year of Public Art." For details, visit cityofchicago.org/yopa.