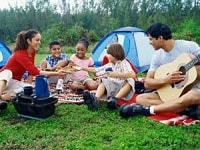 Chicago Park District low cost camping. The Chicago Park District offers four annual opportunities for Family Camping within a Chicago Park District park.  If you like camping but don't want to spend the time and money driving to a remote location you might want to check out one of these sites. Novice campers are welcome as the fee includes use of a tent, fishing gear and a Camping 101 class.
***Cost:  $50 for up to six family members, age six and up.  Register here.  Registration opens two months prior to each event. In order to register you need to have a Chicago Park District account.***
2017 dates:

The 606, Wooded Island and Northerly Island will probably SELL OUT QUICKLY. IF YOU'RE INTERESTED SIGN UP AS SOON AS REGISTRATION OPENS.

Family Camping is an opportunity for Chicago residents to campout overnight in Chicago parks. The program is designed with novice campers in mind. he CPD provides programming including fishing, fire building, guided nature hikes and more.
Staff onsite are available to help set up tents, lead programming and assist with logistics. Space is limited. Ages 6 and up. Groups no larger than 6 per tent. Your camping experience will start at 2pm on Saturday and end 10am Sunday. Please bring your own sleeping bag and brown bag lunches.   Some sites provide the fixings for hotdogs and marshmallows.  You should bring your own dinner.  No alcohol allowed.
Parent or guardian must participate, up to six family members, age six and up.  Open to all area residents not just City of Chicago residents.  You must provide all your food and beverages for the camping trip. Security guards are present at all campsites. There are also portable washroom facilities and hand washing stations.