Get new Chipotle App and Free Chips and Guac or Queso
Sign up for the new free app and while supplies last get a FREE Chips and Guacamole or Chips and Queso with your first iPhone order. Apparently the deal isn't available for Android phones. Way to go Chipotle!
The Deal
Download their new app now and get FREE Chips & Guac or Chips & Queso with your first iPhone order. The offer for the free chips and guac/queso expires December 21.  Get the app at the Apple store or Google Play.
Here are the app features
• Save your favorite meals
• Reorder with one tap
• Receive & redeem offers
• Use Apple Pay or Android Pay
• Pay with ease, using gift cards & credit cards
Summary
If you have an iphone at eat at Chipotle why not sign up? I would do it soon before the free food offer ends. Also they are currently offering a deal: Buy $30 in gift cards now through December 24, then bring in your receipt on your next visit (before December 3t, 2017) for a BOGO free burrito, bowl, salad, or order of tacos. Unlike many other apps you can use gift cards to pay so why not 1) buy a $30 gift card, 2) load it into the app and 3) Make a purchase to get the BOGO deal as well as the free Chips and Guacamole or Chips and Queso.
Find more restaurant deals and coupons here.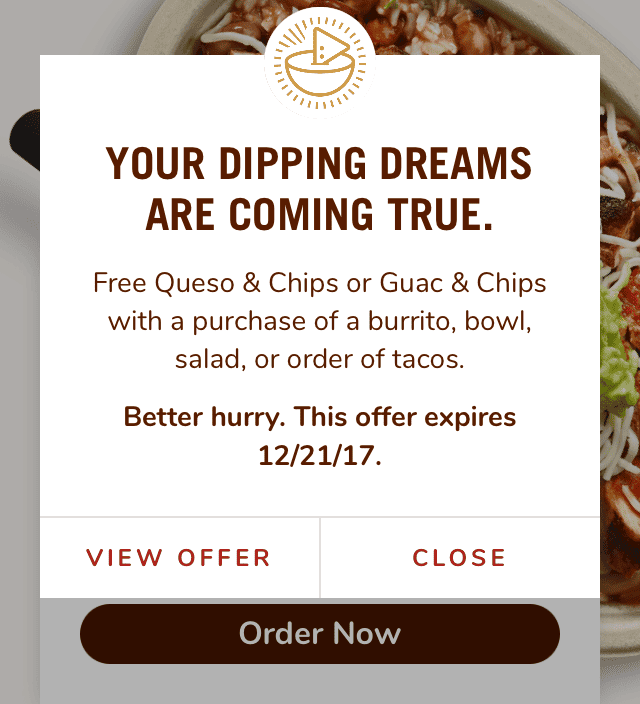 ___________________________________________________________________________________________
Locations:
316 N. Michigan Ave., T: 312.578.0950
Mon-Sun: 10:30 AM – 10:00 PM
8 E. Madison, T: 312.629.3662
Mon-Fri: 10:30 AM – 10:00 PM, Sat-Sun: 11:00 AM – 8:00 PM
10 E. Jackson, T: 312.566.0308
Mon-Fri: 10:30 AM – 10:00 PM, Sat-Sun: 11:00 AM – 8:00 PM
291 E. Ontario, T: 312.587.7753
Mon-Sun: 11:00 AM – 10:00 PM
10 S. LaSalle St., T: 312.977.0506
Mon-Fri: 10:30 AM – 7:00 PM, Sat: 10:30 AM – 4:00 PM, Sun: Closed
6 W. Grand Ave., T: 312.828.0613
Mon-Sun: 11:00 AM – 10:00 PM
233 W. Lake St., T: 312.263.6230
Mon-Wed: 10:30 AM – 6:00 PM, Thu-Fri: 10:30 AM – 5:00 PM,  Sat: 1:00 PM – 4:00 PM, Sun: Closed
230 W. Monroe St., T: 312.727.0054
Mon-Fri: 10:30 AM – 7:00 PM, Sat: 10:30 AM – 4:00 PM, Sun: Closed
311 S. Wacker, Ste 100, T: (312) 291-4949
Mon-Fri: 10:30 AM – 7:00 PM, Sat-Sun: 10:30 AM – 5:00 PM
525 West Monroe St, Suite L1A
T: 312.379.0246
Mon-Fri: 10:30 AM – 8:00 PM, Sat-Sun: 11:00 AM – 8:00 PM