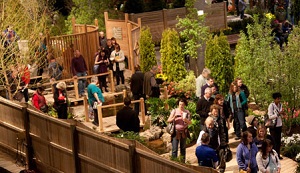 Discount tickets to Chicago Flower and Garden show. As we get closer to the show date ticket prices keep increasing. Prices have increase by $2 since we last published this in August. See prices below.
When:  Saturday, March 18-26, 2017 Sunday-Wednesday 10:00 a.m. – 6:00 p.m; Thursday-Saturday 10:00 a.m. – 8:00 p.m.
Where: Navy Pier, 600 E Grand Ave., 312-595-7437
APPLY DISCOUNT CODE JULIE17 to save an additional $2.
Early Bird Adult Weekend Ticket

9/1/16 – 12/31/16: $16
1/1/17 – 3/17/17: $17
3/18/17 – 3/26/17: $19

Early Bird Adult Weekday Ticket

9/1/16 – 12/31/16: $14
1/1/17 – 3/17/17: $15
3/18/17 – 3/26/17: $17

Child Ticket $5.00.

Spring Fling tickets are valid for 1 adult admission after 5:00PM on Thursday, March 23, Friday, March 24, or Saturday, March 25.

Spring Fling – After 5:00PM $10.00.
Go here to order online. Tickets purchased online are offered with no service fees.  
It's always a nice refuge to walk through an indoor garden during our relentless and never-ending winters.  Tickets to the show would also  make a great gift for a gardening enthusiast on your list. The 2017 theme is CHICAGO"S BLOOMING.

Parking rates here.
In addition to viewing inspiring and spring-evoking gardens other offerings are:
20+ life-sized gardens that you can walk through
Free seminars lead by top horticulture experts and professionals from academia, business and garden center's
Watch and learn from the top professionals in horticulture as they present on exciting green topics, three times a day.
Watch Chicago's culinary elite share their secrets on creating savory dishes from natural and home-grown ingredients during our Garden Gourmet presentations.
Marketplace promoting their green products and services.
Kids' Activity Garden with fun, educational and free kids' activities including a chance to play and interact with garden projects, potting parties, crafts and more.
Learn hands-on from industry professionals! Special classes walk you through the ins-and-outs of Container Gardening and Floral Arranging. Take your creations home with you.