Dunkin Donuts Free $3 off Groupon
For a limited time get a free Groupon for 100% cashback up to $3 at Dunkin Donuts.  Supplies are limited. Hurry!

The last time this was available I cashed it in after 3PM when Dunkin offers 1) any size iced coffee or tea for $1.50 and 2) two donuts for $1.50. After taxes and the Groupon – total cost 35 cents.  Cha-ching!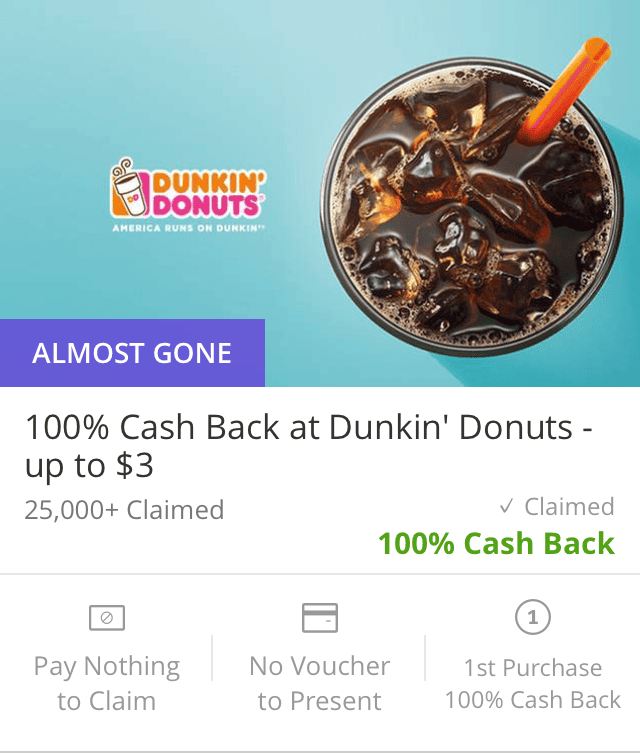 Illinois Center, 233 N Michigan Ave, 312-938-0400 
200 E Randolph St, 312-233-3333 
303 E Wacker Dr, 312-819-9510 
Blue Cross Building, 300 E Randolph St, 312-240-0977
27 E. Lake St, 312-419-8587 
75 E. Washington St., 312-223-0306 
404 N Wabash Ave, 312-828-9120 
27 W. Lake Street, 312-443-1295 
Chicago Transit Authority 128 N State St, 
6 N. Wabash Ave, 312-384-1870
71 E Monroe St, 312-350-1159 
100 W Randolph St C-10, 312-857-1888 
200 E Ohio St, 312-787-9055 
100 W Randolph St, 312-578-0826 
CTA Grand Station Red Line, 521 N State St, 312-877-5223 
31 E Adams St, 312-922-7000 
105 W. Madison St, 312-920-0823 
166 W Washington Ave, 312-551-9773 
62 E Jackson Blvd, 312-786-1114