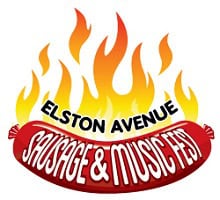 Head up to Elston just north of Addison Street and indulge in a festival celebrating encased meats.
Elston Avenue Sausage & Music Fest
When:  June 25-26, 2016, 12 Noon-10 pm
Where:  3800 N. Elston Ave. between Grace and Byron streets
FREE; $5 gate donation benefit John B Murphy Elementary School and Athletic Field Park.
In addition to tubes of fun there will be plenty of live music, arts & crafts and activities for kids.
This fest takes place in front of the Abbey Pub at 3420 W. Grace just east of Elston. I would say that when you get enough weiners head into the pub but it has been closed for months due to fire. No word on when it will reopen.
Entertainment
2:05 p.m. – Glam Camp
3:10 p.m. – Color Card
4:15 p.m. – Retirement Club
5:20 p.m. – Dam Gila
6:25 p.m. – Modern Vices
7:30 p.m. – Smoking Popes
8:45 p.m. – Local H
Sunday
2:05 p.m. – Latin
3:10 p.m. – Latin
4:15 p.m. – Latin
5:20 p.m. – The Gold Web
6:25 p.m. – The Blind Staggers
7:30 p.m. – HONEYHONEY
8:45 p.m. – Murder By Death
Sausage Vendors
Enjoy your favorite encased meats from the following vendors:
Byron's Hot Dogs
Beloved by Chicagoans for decades, this busy food emporium on Lawrence Avenue in Ravenswood is serious about every item on their wildly expansive menu.
Genoa Italian
A mainstay at Chicago street fests, Genoa's sausages are traditional and popular summer event fare.
Greek Delights/Nottoli & Son
Located on Chicago's far northwest side, Nottoli has been making high-quality fresh Italian sausages since 1947. It's authentic, and the real Italian deal. Restaurant/food critics and food connoisseurs can't say enough good things about Nottoli's selection of homemade sausages as their other butcher shop offerings. Nottoli's Italian, Polish and Greek sausages will be sold at the booth of Greek Delights.
Home Bakery
Home Bakery has been wowing Chicago festival-goers with their foods and sausages for many years.
Kate & Jan Hot Dog Food Truck
"Theres a sweet variety of selections beyond typical hot dogs, like Polish and even French sausages," says one blogger who's an expert on Chicago food trucks. To which we'll also add the spicy Italian and German sausage on Kate & Jan's menu.
Paulina Meat Market
When Sigmund Lekan began making sausage and smoking meats at Paulina Market in 1949, Lincoln Avenue in West Lakeview was known as Germantown Chicago. Using recipes and traditions brought over from Old World European butcher shops, it has a wildly loyal following. With four smoke-houses, a sausage kitchen, a large retail space and ample freezer rooms, Paulina is one of Chicago's most iconic meat markets.