Free Chicago Built Environment Symposium.
When: Saturday, September 30, 2017 8:00AM*5PM
Where: University Club of Chicago, 76 East Monroe Street
The Richard H. Driehaus Foundation sponsors a FREE symposium on the Built Environment.  For any architecture buffs and geeks I attended in 2015 and there were some really informative and fascinating presentations.
2017 Architecture as Experience: Human Perception & The Built Environment
Overview
Our perceptual engagement with the built environment is a multisensory "whole-organism experience." Architectural design is  a process by which minds, bodies, built environments, and cultures interact with each other in a developmental process on multiple levels over the course of generations.
This symposium will explore the inevitable shift of perspective from the "object" of design to the "experience" of those inhabiting the built forms, and consider the implications for the practice of architecture.
Schedule
8:00 – 8:30 AM Breakfast
8:30 – 8:45 AM Opening Remarks Kim Coventry and Richard H. Driehaus
8:45 – 9:00 AM The Future of Design Past Dr. Harry Francis Mallgrave, Hon. FRIBA
In 1954 architect Richard Neutra published his book Survival through Design. The momentous gains in our knowledge of ourselves today bring urgency to the perspective that he summoned.
9:00 – 9:35 AM Richard Neutra: Creating Canvases for Linking Nature to Body, Mind, and Sensory Perception Dr. Barbara Lamprecht
Richard Neutra's work is renowned for its sleek expressions of canonical Modernism, a closer read reveals an extraordinary repertoire of sources that sets him apart from his iconic twentieth-century peers. Neutra rejected solely subjectively-contrived form in favor of "diligent investigation" that supported a "planned environment that must never militate against our own biological necessities".
9:35 – 10:10 AM Humanism in Architectural Practice Today Robert Lamb Hart
The insights emerging from the human sciences about how we respond to built environments have created an opportunity to enlarge ways designers think about design more reliably. It remains for schools and the profession to translate this knowledge into the day-to-day teamwork where actual design decisions are made
10:10 – 10:40 AM Coffee Break
10:40 – 11:30 AM The Space of Relation: Emotion in Architectural Experience Sarah Robinson, AIA
The architecture and urban environments of the last half century have been amply criticized for their ocularcentric/rational bias which fails to engage our emotions, elicit our empathy, or captivate our imagination.
11:30 – 1:00 PM Lunch
1:00 – 1:35 PM The Role that Mirror Mechanisms and Embodied Simulation Play in the Perception of the Built Environment
Dr. Vittorio Gallese (Interview from London)
1:35 – 2:10 PM Design from a Cognitive Perspective: Learning from Zumthor and Utzon Dr. Michael Arbib
What goes on in the brain of architects designing a building or in the brains of people exploring the building?
2:10 – 2:40 PM Place, Peripheral Vision, and Space Perception: A Pilot Study in VR Dr. Colin Ellard and Bob Condia, AIA
To date there has been little research seeking to define the interchange between central and peripheral vision within urban settings. This study in virtual reality endeavors to define parameters between central and peripheral vision, in anticipation of taking this science outdoors for the study of people in real places.
2:40 – 3:00 PM Coffee Break
3:00 – 3:45 PM Keynote Address Architecture as Experience—Existential Fusion of the World and Self Juhani Pallasmaa, SAFA, Hon. FAIA, Int. FRIBA
Architectural theory, education, and practice have traditionally viewed architecture as the composition of visually aestheticized, material forms and spaces, Phenomenology is today emphasizing the complex interactions of perception, memory, imagination, emotion, and identification.
This emphasis on experience also questions the hegemony of focused vision and underscores the role of the embracing and omni-directional senses. Our experiences with the world and architecture are fundamentally tactile, embodied, and existential. Our most important architectural sense may well prove to be the existential sense of being and self.
3:45 – 5:00 PM A Conversation with Juhani Pallasmaa Moderated by Sarah Robinson
 __________________________________________________________________________________________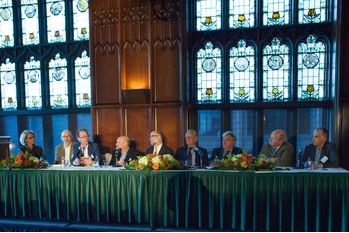 COTC: Watch a group of big ego architects discuss big topics affecting architecture world-wide, their views on specific buildings and more. The downside of this video is that it's filmed close-in so you can't see the other architects making faces as their peers are speaking on specific topics.  Fascinating!
__________________________________________________________________________________________