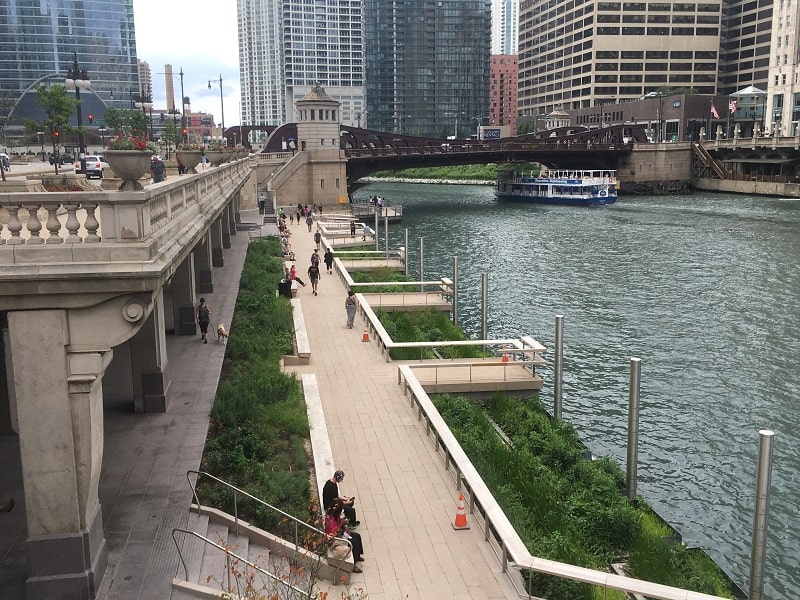 Free event Chicago Riverwalk
When: Every Thursday, July 13 – August 17, 2017 4:30PM-8:30PM

Where: Chicago Riverwalk, Jetty area of the Riverwalk between Wells and Franklin.
Chicago Sister Cities International is hosting a six week global celebration on the Riverwalk called Unifest. Each week several of Chicago's 28 sister cities will be represented with food, drink and music.
Entertainment is free. Food and beverages: Bottled Water/Soda: $2, Food: $4, Beer: $6, Wine: $8 and Cocktails: $10.
SCHEDULE
MUSIC
Warsaw, Poland
State Of Mind and DJ Kw
SPIRIT
Mexico City, Mexico
Hornitos Plata Tequila
BEER
Prague, Czech Republic
Pilsner Urquell
Chicago
Revolution Brewing: Fist City, Rev Pils, Cross of Gold
RED WINE
Athens, Greece
Domaine Skouras St. George Nemea, 2014
WHITE WINE
Milan, Italy
Bibi Graetz Casamatta Toscano Bianco, 2015
FOOD
Lahore, Pakistan
Potato and Pea Samosas: with mint chutney
Shenyang, China
Chilled Noodles: scallions, chili oil, snow peas, baby bell peppers
Chicago
Chicago-Style Popcorn: caramel and cheddar cheese mix
Pricing:
Bottled Water/Soda: $2
Food: $4
Beer: $6
Wine: $8
Cocktails: $10
Chicago's Sister Cities
They used to have the names and/or the flags of our sister cities displayed/hanging in the corridor from the CTA blue line into the Terminals at O'hare. They may still be there. I didn't notice when I was there a couple months ago. Anyway here's the list:
Accra, Ghana | Amman, Jordan | Athens, Greece | Belgrade, Serbia | Birmingham, UK | Bogotá, Colombia | Busan, Republic of Korea | Casablanca, Morocco | Delhi, India | Durban, South Africa | Galway, Ireland | Gothenburg, Sweden | Hamburg, Germany |
Kyiv, Ukraine | Lahore, Pakistan | Lucerne, Switzerland | Mexico City, Mexico | Milan, Italy | Moscow, Russia | Osaka, Japan | Paris, France | Petach Tikva, Israel | Prague, Czech Republic | Shanghai, China | Shenyang, China | Toronto, Canada | Vilnius, Lithuania | Warsaw, Poland