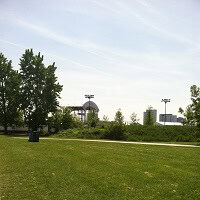 Campfire Horror at Northerly Island
Where:  Northerly Island, 1521 S. Linn White Dr., (312) 745-2910. Visit their Facebook page. Event is outside, weather permitting, but will be moved inside in the event of rain. Free.
Enjoy a warm fire on a cool night in the perfect setting for a scary movie. Cozy up to a cracking campfire, roast marshmallows and enjoy horror classics under the October sky.Marshmallows are provided. Bring your own blankets and chairs.:
Saturday, October 6, 2017 from 7PM – 9PM Campfires are lit at 6:00, movie begins at 7:00.
The Birds(PG13) – A wealthy San Francisco socialite (Tippi Hedren) pursues a potential boyfriend (Rod Taylor) to a small Northern California town that slowly takes a turn for the bizarre when birds of all kinds suddenly begin to attack people.
Friday, October 13, 2017 from 8:30 PM – 10:05 PM Campfires are lit at 7:30, movie begins at 8:30.
Friday the 13th (R) – Years after a tragedy, a summer camp reopens with a new batch of teenage counselors and eager young campers. One by one, though, counselors start disappearing as a mysterious masked figure appears in the woods and brings new frights to Camp Crystal Lake.
Movie begins at approximately 8:30, immediately after our kid-friendly screening of Hocus Pocus.Website has no info on Hocus Pocus. This movie probably starts at 7PM.
Friday, October 20, 2017 from 7:00 PM – 9:26 PM Campfires are lit at 6:00, movie begins at 7:00.
The Shining (R) – A family heads to an isolated hotel for the winter where an evil and spiritual presence influences the father (Jack Nicholson) into violence, while his psychic son sees horrific forebodings from the past and of the future.
Friday, October 27, 2017 from 7:00 PM – 8:24 PM Campfires are lit at 6:00, movie begins at 7:00.
Nosferatu (NR) – In this first, although unauthorized, film adaptation of Bram Stoker's Dracula, F.W. Murnau gives us Count Orlok, a grotesque villain who feeds on the life force of others.
Friday, October 27, 2017 from 9:00 PM – 10:36 PM
Night of the Living Dead (NR) – In 1968, this George A. Romero classic gave the world something new to be afraid of – the rising and living dead. Panic mounts throughout the country, as a small group of survivors barricade themselves in an old farmhouse in an attempt to remain safe from the dead come back to life.