M Burger's Birthday Bash: Complimentary Burger with Any Purchase
WHEN: Wednesday, March 22, 2017 ALL DAY
WHERE: 100 West Randolph St., 161 East Huron, 5 West Ontario, 835 North Michigan Avenue, Chicago, IL, M Burger – Aurora, M Burger – Skokie.
Happy Birthday to M Burger! To celebrate when they opened their first location on Huron Street, please join us at any location—as we offer one free burger (including hamburgers, cheeseburgers, our signature M Burgers and any burger on the Secret Menu) with any purchase (yes an order of fries count). One per person, in-store only. Not valid with any other offer. No LEYE points earned.
___________________________________________________________________________________________
You earn 1 point for every dollar spent (not including tax and tip).  When you accumulate 140 points you earn a $10 award which will be automatically added to your account. The award dollars can only be used for dining (including booze), not for tip.  You can earn the points by:
Using a credit card registered to your account
Give them your LEYE membership card and they will add the points to it.
Download the LettuceEats app, check into your Lettuce location, write the four digit mobile code on your check, and your points will automatically be added to your account.
They send you an annual birthday reward of around $10-$15.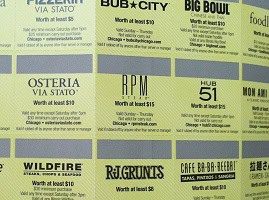 During the summer they have a very popular promotion where you earn double or triple points at their restaurants or actual dollars off for dining at most of their restaurants from mid-July to mid-September .  From time-to-time throughout the year they have bonus point days where you earn double or triple points.  Some of the restaurants in the group: Three Dots and a Dash, Hub 51, Frankie's, Joe's Seafood, Shaw's.