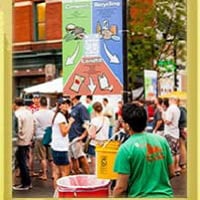 The Green Music Fest Chicago celebrating environment sustainability is this weekend in Wicker Park.
When:  June 10-11, 2017 Sat. and Sun. 12PM-10PM
Where: Wicker Park, Damen Avenue between North Avenue and Schiller
Admission free.  $10 suggested donation  No info on who benefits from the gate receipts.  (Chicago residents aren't required to pay entrance fees to street festivals.  More info here).
In addition to eco-conscious beer and a broad assortment of vendors showcasing green products and services, the event features live performances from big-name music acts (one stage is bike-powered) and Family Fun events from 12PM-5PM.
Mission Statement
Wicker Park's Green Music Fest serves as a platform to educate and encourage its 30,000+ attendees to embrace green initiatives, transportation, and products that improve our daily lives and promote sustainable living by leaving a smaller footprint.
Green Initiatives Summary
The Green Music Festival has enhanced its green initiatives with help from the WPB SSA. Its improved policies and efforts demonstrate an increased commitment to the highest standards of environmentally responsible practices. Below is a summary of our policies, goals and initiatives.
WASTE REDUCTION
FOOD VENDOR POLICIES
PROHIBITED ITEMS
RETAIL / VENDOR POLICIES
BOTTLES AND BEVERAGES
BIODIESEL
SIGNS
TRANSPORTATION
PRINTING PARTNER
GREEN BUILDING