How to find cheap parking in Chicago.
Parking in Chicago can be very expensive.
Meters downtown are $6.50 per hour 8AM-9PM, $6.50 for 2 hours 9PM-8AM.  Finding street parking can be a nightmare and if the signs where you're parking aren't clear don't park there.  A parking ticket or worse a tow will negate anything you saved by parking at a meter.
ParkChicago app
If you are planning on using a meter you should download the ParkChicago app which allows you to pay for parking with your phone and extend your time remotely all on your phone. Look for the Pay at Pay Box sign.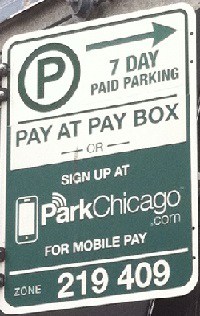 Plan ahead
The key to saving money when parking downtown is (taking the train) planning ahead. If you're going to  a specific restaurant, theater, store or mall call ahead and check online to see if they offer any valet or parking garage deals.
If you know which garage you want to park in call the garage and check online.  Some garages have early bird or later afternoon specials.
Check parking apps
There are several apps that offer a substantial discount to the drive up rates.  Using apps you may find lots that you may not have known were open to the public, let alone cheap.
Here's some tips:
Know where the garage is before you buy.  In testing all the apps most came up with close in garages but some didn't.  You may not want to walk several blocks round trip to the garage.
If the first rate you pull up looks expensive check another app.
If the rate comes up as Not guaranteed call the garage.
When selecting your time-frame, leave a buffer in case of delay at your appointment or a delay getting out of the garage particularly at rush hour.  Most of the time you'll notice adding a few hours of padding doesn't affect the rate at all.
Some apps charge more for larger vehicles.  Be aware.
Here in Chicago we have access to several apps.  Enter an address, and it tells you where the closest lots are and how much they charge.  If you haven't used a parking app before read how they work ahead of time through the links provided below.   Below are the distinguishing features of each app.
Best Parking app, free for iPhone and Android. Help: email form in app only no phone.  You must cancel two hours before arrival time or there is no refund.
ParkWhiz app, free for iPhone and Android. Help:  888‑4‑ParkWhiz, help@parkwhiz.com 

Some garages only accept printed passes which is a pain if you don't have access to a printer or you're sitting in front of the garage.  There is no way to change the arrival or departure time post-purchase, so the best step to take is to cancel your pass (before it starts), then re-book with the time-frame that will better accommodate your needs.
Spot hero app, free for iPhone and Android.  Help: 312-566-7768.  In the event you overstay your reservation you can go to SpotHero and purchase another reservation to give you some more time. Just show that new purchase (along with your previous ones to the garage attendant).  SpotHero will honor all refunds requested before the reservation start time.