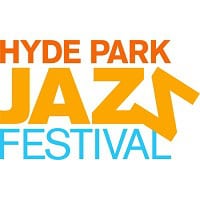 The annual Hyde Park Jazz Festival returns.
When:  September 24-25, 2016, Saturday 1 pm – Midnight and Sunday 1 pm – 7pm
Where: 5900 S. S Woodlawn Ave & Midway Plaisance
Admission:  suggested $5 donation.
The Hyde Park Jazz Festival attracts about 12,000–15,000 attendees annually. Two stages located on the Midway and other venues are throughout Hyde Park including Hyde Park Union Church, DuSable Museum, the Smart Museum,Little Black Pearl, International House, Logan Center and more. Info on free transportation between venues is below.
SCHEDULE 2016
Check out the full 2016 lineup below or download it here:  Hyde Park Jazz Festival Schedule.
SATURDAY, SEPTEMBER 24
Matt Ulery's Loom
1:00-2:00pm
Smart Museum of Art
Willie Pickens Quartet
1:30-2:30pm
Wagner Stage
Inside the Score – Dana Hall Talk: "Creating the Hypocrisy of Justice Project"
1:30-2:30pm
Logan Screening Room
Bobby Lewis Quintet
2:00-3:00pm
Hyde Park Union Church
Sammy Miller & the Congregation
2:30-3:30pm
West Stage
Thaddeus Tukes / Isaiah Collier Duo
2:30-3:30pm
Smart Museum of Art
Maggie Brown Group
2:30-3:30pm
DuSable Museum of African American History
Wayfaring: Katie Ernst and James Falzone
2:30-3:30pm
Oriental Institute: Breasted Hall
Quentin Coaxum Quintet
3:00-4:00pm
Little Black Pearl
Garden of Souls: Geof Bradfield, Nick Mazzarella, Joshua Abrams, Mike Reed
3:30-4:30pm
Wagner Stage
"Chicago's Record Man: A Conversation with Bob Koester" Video
3:30-4:30pm
Logan Screening Room
Matana Roberts (solo)
4:00-5:00pm
Logan Penthouse
Yvonne Faddis-Stroud & Friends
4:00-5:00pm
Hyde Park Bank
Lorin Cohen Group
4:00-5:00pm
Hyde Park Union Church
The Orbert Davis Sextet's "Tribute to Freddie Hubbard"
4:15-5:15pm
DuSable Museum of African American History
Marvin Tate's Weight of Rage
4:30-5:30pm
Little Black Pearl
Greg Ward & 10 Tongues Touch My Beloved's Thought
4:45-5:45pm
West Stage
Amir ElSaffar Two Rivers Ensemble
5:15-6:15pm
Logan Performance Hall
Roy McGrath / Bill Cessna Duo
5:30-6:30pm
Hyde Park Bank
Matana Roberts (solo)
6:00-7:00pm
Logan Penthouse
Dee Alexander Quartet with very special guest Dwight Trible
6:00-7:00pm
Wagner Stage
Miguel Zenón and the Spektral Quartet "Yo Soy La Tradición"
7:15-8:15pm
Logan Performance Hall
Angel d'Cuba
7:15-8:15pm
West Stage
BaSH: Clark Sommers, Geof Bradfield, Dana Hall
7:15-8:15pm
International House
TRIP: Tom Harrell, Ugonna Okegwo, Mark Turner, Adam Cruz
8:30-9:30pm
Wagner Stage
Supreme Love
9:30-10:30pm
Logan Performance Hall
DJ Sadie Woods
9:30-10:30pm
West Stage
Joshua Abrams, Ari Brown, Gerald Cleaver, Jeff Parker Quartet
9:30-10:30pm
International House
Randy Weston (solo)
11:00-midnight
Rockefeller Chapel
SUNDAY, SEPTEMBER 25
Marquis Hill Blacktet
2:00-3:00pm
Wagner Stage
Douglas R. Ewart and Orbit: "A Constellation of Ewart Sonic Tops and Crepuscular Instruments"
3:00-4:00pm
West Stage
Denise Thimes Quartet
4:00-5:00pm
Wagner Stage
Chicago Jazz Orchestra
5:00-6:00pm
West Stage
Victor Goines Quartet
6:00-7:00pm
Wagner Stage
Venue locations:
Wagner Stage at the Midway
Midway Plaisance South of Woodlawn
West Stage at the Midway
Midway Plaisance South of Ellis
Reva and David Logan Center for the Arts
915 East 60th St.
Hyde Park Bank
1525 E. 53rd St.
Hyde Park Union Church
5600 S. Woodlawn
International House
1414 East 59th
Oriental Institute: Breasted Hall
1155 East 58th St.
Smart Museum of Art
5550 South Greenwood
Rockefeller Chapel
5850 S. Woodlawn
Little Black Pearl
1060 East 47th St.
DuSable Museum of African American History
940 E. 56th Place
Transportation between venues:
A FREE Bus Service between venues is avaialble. A map of the 2016 Festival bus route will be available here online in September before the Festival as well as at the Midway during the Festival.
The Midway Plaisance is the transportation hub for the Festival. There will be late night buses leaving Rockefeller Chapel at 12:00 midnight (don't worry, the bus will wait until 10 minutes past the performance in case it runs a little past midnight). Free buses service all other venues during performance hours between 1:00 PM–10:45PM on Saturday. Route information will be posted on buses and available at venues. Many of the venues are within walking distance of each other.
Hyde Park Art Center installations
The Hyde Park Art Center will present three visual art installations during the Festival. Three main projects have been selected: Juan Angel Chavez's, "Gramaphone"; Jeremiah Hulsebos-Spofford and Faheem Majeed's "Floating Museum"; and Sabina Ott's "Mountain Variation." These projects will be grouped together halfway down the Midway.
Each of the artists will create work that responds to ideas and concepts present in jazz and the South Side.
Juan Angel Chavez's installation, entitled "Gramophone" will be a tent like structure using wood and fabric in the shape of a gramophone at the north entrance of the Festival.
"The Floating Museum," a collaborative work by artists Faheem Majeed and Jeremiah Hulsebos-Spofford and architect Andrew Schachman, will ask Hyde Park Jazz Festival visitors to help them construct an exhibition space, using lumber, connectors and other materials, that will change over the course of the Festival.
Sabina Ott will build "Mountain Variation," a sculptural group of natural forms carved from polystyrene. Visitors can lounge directly on the sculpture while listening to the music of the Festival.
Dining
There will be food vendors throughout the festival but there are also several great restaurants in Hyde Park including:
Medici on 57th, 1327 E. 57th St., (773) 667-7394
Morry's Deli, 5500 S. Cornell,
Piccolo Mondo, 1642 E. 56th St. (773) 643-1106
Valois, 1518 E 53rd St, (773) 667-0647