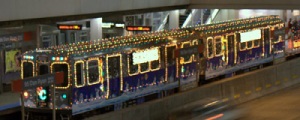 Ride the CTA Holiday Train
***Updated with full schedule***
New this year is a second train, the CTA Elves Workshop Train. The Elves Train is in service on Saturdays only and will follow directly behind the Santa Holiday Train.

Prepare for the madness. The Chicagoist published this article last year about riding the CTA Holiday train.  It sounds pretty awful. I'm guessing the Elves train is an attempt to alleviate the overcrowding on the Santa train. We'll see.
Here's my experience with the CTA Holiday Bus which is running Nov 29-Dec 23.

When and Where
When: Beginning Saturday Nov. 19 through Dec. 23, 2016. The train generally operates from about 1pm to 8pm on weekends and 3pm to 7pm on select weekdays (schedules for each rail line will vary), and will make stops at all stations along the respective routes.
Full schedule below.
Where: All CTA rail lines Regular CTA fares apply:  $2.25 one way; $5.00 from O'hare.
What is it?
The Chicago Transit Authority is getting into the holiday spirit with the Holiday Train. Santa will ride on his own train and a second train (on Saturdays only) will carry his elves who will pass out candy canes and season's greetings.
The outside of the six-car train is adorned with holiday seasonal images. Thousands of twinkling lights outline the shape of the train and windows, with even more lights running across the tops of the cars.
Interiors of the cars are decked out with thousands of multi-colored lights, red bows, garland, and red and green overhead lighting. The hand poles are wrapped to look like candy canes.
As the train pulls into each station, Santa waves to the boarding passengers from his sleigh on an open-air flatcar carrying his reindeer and decorated holiday trees.
FULL SCHEDULE
2016 Detailed CTA Holiday Train Schedule
Click the dates below to see full details.
Red Line
11/19 – Sat
Green Line & Orange Line
11/25 – Fri
Green Line
11/26 – Sat*
Green Line & Orange Line
11/29 – Tue
Orange Line & Brown Line
11/30 – Wed
Orange Line & Brown Line
12/1 – Thu
Orange Line & Brown Line
12/2 – Fri
Orange Line

&

Brown Line
12/3 – Sat*
Pink Line
12/6 – Tue
Pink Line
12/7 – Wed
Blue Line
12/8 – Thu
Blue Line
12/9 – Fri
Blue Line (+ photo-only stop on Pink Line)
12/10 – Sat*
Red Line
12/13 – Tue
Purple Line
12/14 – Wed
Red Line
12/15 – Thu
Purple Line
12/16 – Fri
Red Line & Purple Line
12/17 – Sat*

Purple Line

12/22 – Thu
Yellow Line
12/23 – Fri
 = Photos with Santa;
*Elves' Workshop Train in service and directly following the Holiday Train.