Get $25 off $100 online order Staples. Visa Checkout is a way to save time and offers an  extra layer of security when you're shopping online. However the main reason I use Visa Checkout is to take advantage of the money saving offers they send out via email.
How it works
When you're shopping online with participating vendors at check out instead of entering your credit card information directly into the vendors payment system you click on the "Visa checkout" button and then log in to your Visa Checkout account where you have your credit or debit cards registered.  You can register Visa, MasterCard, American Express or Discover credit or debit cards to your Visa Checkout account.
Signup for Offers
I'm not an expert in online security but I am when it comes to saving money. I've been using this for about 6 months and had no security breaches to my registered cards.  But I really just use it to save money.  Once you have your account set up you have to subscribe to receive offers via email.
Create an account at Visa Checkout here.
Get $25 off $100 online order Staples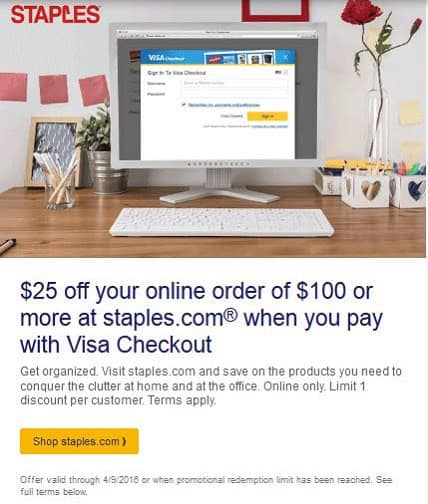 The Deal
Spend $100 or more at Staples before taxes and shipping.
Look for the Visa Checkout button at checkout.
Pay with a card registered through Visa Checkout.
Get $25 off instantly.
Expires 7/22/17 or when promotional redemption limit has been reached..
Read full Terms and Conditions here.
Obviously you'll have to check prices. Staples has gotten more competitive with Amazon and Amazon prices have gone up. Staples sells more than office supplies and can be competitive.
I was able to find a couple of good deals for things that I needed. When you add the 25% off they become really good deals.  I also paid for this order with a non-Visa credit card that gives me an additional 5% off for office supplies.
This Staples deal offers instant savings. Some Visa Checkout offers will be for a statement credit such as "Load $10 onto your Dunkin Donuts card and get a $5 statement credit".
When the offer is for a statement credit you MUST use a Visa card to pay. The statement credits are supposed to show up in 4 to 6 weeks but generally they show up much sooner. Before shopping read all the Terms and Conditions carefully.
If you want to take advantage of this offer you can create an account at Visa Checkout then go to Staples website where you will see this offer. Click through and start shopping. 
The list of vendors that participate has been growing. Check it out here and enjoy your savings!