Shaw's Crab House Brunch Dining Deal. Shaw's has a fabulous weekend brunch but it's a hefty $59 plus tax and tip. I'm not sure how many crab legs you would have to eat to get your money's worth but now they have a deal!
Where: Shaw's Crab House, 22 E. Hubbard, 312-527-2722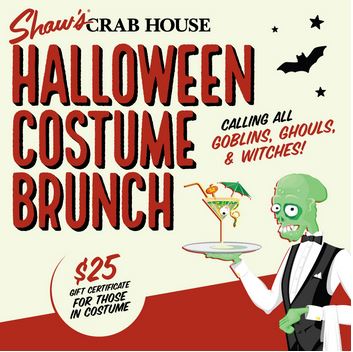 Dress up for Halloween and receive $25 off Saturday Brunch
Get in costume and head to Shaw's Crab House in Chicago to celebrate Halloween right. On Saturday, October 28, Shaw's is throwing a Costume Brunch filled with all the regular brunch items plus Halloween treats. Any guests in costume will receive a gift certificate for $25 that can be used towards their next Shaw's visit!
Brunch cost
Brunch costs $59 for adults, $10 for kids ages 7-12, and free for children 6 and under; reservations are recommended. Reservations are available from 10am-2pm and can be reserved by using Opentable or calling 312-527-2722.
Sign up and receive $25 off Saturday Brunch
For a limited time sign up to receive texts by texting: SHAWS.CHI to 70717 to join.  You will instantly get your first offer: $25 off Saturday Brunch at Shaw's.
You'll receive up to 6 messages per month from an automated system.  Message and data rates may apply.  Text STOP to cancel.  Text HELP for help.  Consent to text messaging terms not required for purchase.
Terms and conditions
Mobile Terms & Conditions
About Shaw's brunch
This deal is only good on Saturdays 10AM-1:30PM. Reservations are recommended.  They are on Opentable.
Brunch costs $55 per person ($10 for children ages 7-12; free for children 6 and under).
Shaw's brunch includes traditional breakfast items such as eggs Benedict, bacon, create your own omelette, a seafood bar and sweets table. Also included are juice, coffee, and soft drinks. Bloody Mary's are $10 and Mimosa's $8. Here's the menu.
________________________________________________________________________________
Join Lettuce Entertain You's Frequent Diner program:
Lettuce Entertain You:  Earn 1 point for every dollar spent (not including tax and tip).  When you accumulate 140 points you earn a $10 reward which is automatically added to your account. Reward dollars can only be used for dining, not for tip.  Earn points by:
Downloading the LettuceEats app, check into your Lettuce location, write the four digit mobile code on your check, and your points will automatically be added to your account.
Using a credit card registered to your account
Presenting your LEYE membership card and they will add the points to it.
You will also receive an annual birthday gift of $10-$15.