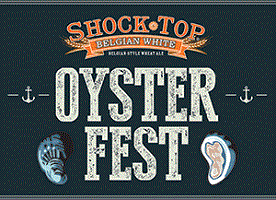 Bivalve aficionados kick off the unofficial start of autumn at this post-Labor Day festival.
When: Sat., September 10, 2016, Saturday: 11 a.m. to 10 p.m.
Where: Roscoe Village, Roscoe and Damen
Beneficiary: Roscoe Village Chamber of Commerce – Suggested Entrance Donation $7.00
Tents housing fresh seafood as well as other culinary delights from local restaurants are but one highlight of what has grown over the years to become a truly unique change-of-season happening. There's also arts & crafts.
Another major draw? An eclectic music lineup (past performers include The Human League, Alien Ant Farm, Scotland Yard Gospel Choir and Men at Work) plus a stellar lineup of several top Irish music acts.
Entertainment
12:00 pm – The Blind Staggers
1:30 pm – Michael McDermott
3:15 pm – Waco Brothers
5:00 pm – Hank & Cupcakes
6:15 pm – Catfight
8:00 pm – Bruce in the USA
Roscoe Village has some great pubs including Roscoe Village Pub, 2159 W. Addison St., Mrs. Murphy & Sons Irish Bistro, 3905 N. Lincoln Ave, Commonwealth Tavern, 2000 W. Roscoe St. and The Village Tap, 2055 W Roscoe. Enjoy!
______________________________________________________________________________________
About Roscoe Village (Roscoe Village Chamber of Commerce)
Located on the North Side of Chicago along the beautiful Chicago River, Roscoe Village is known as the "Village Within the City". After the Great Chicago Fire, much of the area had to be rebuilt and what is left from that period are the classic red brick homes and the charming storefronts that still exist today. Our award-winning restaurants offer a refreshing variety of fare (including sushi, Mediterranean, Italian as well as classic American) creating an enviable culinary landscape. Nearby watering holes and wine depots are only steps away – this one specializing in world class tap beers, that one presenting an eclectic selection of wines and liquors. Roscoe Village boasts an incredible diversity of boutique stores guaranteed to match your style! The fashions span from contemporary to funky, for men, women, and toddlers. After that, the choice is yours as you browse shop after shop featuring personalized stationery, gifts, bed and bath supplies, women's shoes and much, much more. Today, Roscoe Village finds itself a fun, safe, thriving, community oriented niche of the city, and welcomes visitors with open arms.

Our collection of shops, restaurants and services is a rarity in today's chain store world. A stroll in Roscoe Village will introduce you to independent, one of a kind emporiums – in many, the owner is probably taking care of you! Each store reflects the personality of its proprietor – in some the atmosphere is sleek and sophisticated, in others it may be quirky and off-beat. The diversity offers something for every one
and is a refreshing departure from a shopping mall experience. Visitors are especially happy to find stores offering the kind of unique merchandise they cannot find in their hometowns. Most boutiques are open seven days a week. Our restaurants serve lunch, dinner, weekend brunch and daily breakfast. We look forward to seeing you in our lovely neighborhood!

Although the menus of Roscoe Village and the many boutiques are the known attractions of the neighborhood, there are multiple options for memorable experiences in this community. Pilates, Yoga, and recreational leagues are just a few of the ways an RV resident can keep in shape. Satisfy your creativity with art classes or bond with your pooch through dog training. And don't forget the multiple street festivals and annual events that attract Chicagoans to play with us!

Fellger Park

This 2/3 acre playlot is located in the Roscoe Village neighborhood (at the corner of Belmont and Damen avenues). With a soft-surface playground and shaded area to picnic; this quaint playground is very popular with the little ones. While there is no structured programming taking place at this location, we invite you to check out our great programs offered at nearby Hamlin Park.

Fellger Park was one of 42 new city playgrounds and playlots that were being built or opened to the public in 1950. Established by the Bureau of Parks and Recreation on Board of Education-owned property in Chicago's North Center neighborhood, the new park included a spray pool, a sand box, and playground apparatus. In March 1954, the City Council named the site in honor of Charles L. Fellger, a local civic leader who had worked tirelessly to create the park. By the time the Chicago Park District began managing Fellger Park in 1959, a basketball court had been added to the 3/4-acre site. In 1991, the Board of Education transferred full ownership to the park district, which extensively rehabilitated the site, replacing the existing playground equipment and basketball court with a large soft surface playground.

Hamlin Park

Located in the North Center community (two blocks south of Belmont Avenue, with its eastern border abutting Damen Avenue), Hamlin Park sits on approximately eight acres. The fieldhouse contains a fitness center, two gymnasiums, an assembly hall (with stage), a kitchen, and clubrooms available for rental. Outside, there's a swimming pool, two senior and two junior baseball fields, named Legends Field for Chicago Cubs Greats Ernie Banks, Billy Williams, Ryne Sandberg, Ron Santo, a combination football-soccer field, a basketball court, two tennis courts, a playground, and an assembly area. Dog owners appreciate that Hamlin Park is one of the sites containing a designated dog-friendly area.
With a strong focus on fitness, Hamlin Park offers Qi Gong, yoga, Kids Fitness, Olympic weightlifting, and walking club.Sports include baseball, basketball, boxing, dodgeball, floor hockey, Junior Bears Youth football, kickball, seasonal sports, soccer, softball, track & field, and volleyball. Parents will appreciate the opportunity for their of tots / preschoolers to increase their socialization skills in programs such as: Moms Pops & Tots Interaction, Tot Spot, Tiny Tot Tumbling, Fun & Games, Arts & Crafts, and Music & Movement.Teens can make new friendships in the park's Teen Club. During the summer, besides regular programming, Hamlin Park will keep youth and young teens involved and well supervised with its popular and affordable six-week Day Camp, Teen Leadership Camp, Music Camp, and Sports Camp.
In addition to programs, Hamlin Park host special events, such as its annual Boxing Show. Chicago Moving Company is Hamlin Park's Arts-Partner-in-Residence.CMC is a modern dance company which offers beginner, intermediate, and advanced dance classes to the community.Come out to Hamlin Park Theater to attend a performance by CMC or other dance companies from the community. Hamlin Park Baseball Association is a not-for-profit organization which provides competitive baseball for boys and girls, ranging from ages 5 to 19.HPBA is staffed by parent volunteers.