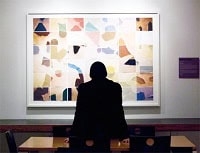 Every year Smithsonian Magazine offers free admission-for-two to hundreds of participating museums across the United States.  This year's FREE day is Saturday, Sept. 24, 2016. 
To take advantage of this offer you need to fill out the form on the Smithsonian website here and then download your free ticket valid for two people.  Get there early, because the museums may limit the number of guests allowed in at one time.
If you're planning on going as a group, you might consider registering for additional admit-two tickets through friends and family.
Some of these museums have free days throughout the year.  Check here.
2016 participating Illinois museums:
Clarke House Museum, 1827 S. Indiana Ave., Chicago, IL, 60616
DuSable Museum of African American History, 740 East 56th Place, Chicago, IL, 60637
Glessner House Museum, 1800 S. Prairie Ave., Chicago, IL, 60616
International Museum of Surgical Science, 1524 Lake Shore Drive, Chicago, IL, 60610
National Hellenic Museum, 333 S. Halsted St., Chicago, IL, 60661
Illinois Holocaust & Education Center, 9603 Woods Drive, Skokie, IL, 60077
Intuit: The Center for Intuitive and Outsider Art, 756 N. Milwaukee Avenue, Chicago, IL, 60642
Loyola University Museum of Art, 820 N. Michigan Ave., Chicago, IL, 60611
Museum of Contemporary Art Chicago, 220 E. Chicago, Chicago, IL, 60611
National Hellenic Museum, 333 S. Halsted St., Chicago, IL, 60661
The Peggy Notebaert Nature Museum, 2430 North Cannon Drive, Chicago, IL, 60614
Smart Museum of Art, Free everyday The University of Chicago, 5550 S. Greenwood Avenue, Chicago, IL
Other locations throughout Illinois:
Aurora Regional Fire Museum
SciTech Hands on Museum, Aurora, IL
Barrington History Museum
William M. Staerkel Planetarium, Champaign, IL
Vermilion County War Museum, Danville, IL
Galena & U.S. Grant Museum
Geneva History Museum
Stacy's Tavern Museum, Glen Ellyn, IL
Willowbrook Wildlife Center, Glen Ellyn, IL
Great Lakes Naval Museum Free everyday
Lincoln Heritage Museum, Lincoln, IL
The Morton Arboretum, Lisle, IL
The Museums at Lisle Station Park Free everyday
Museum of the Grand Prairie Free everyday Mahomet, IL
Mayslake Peabody Estate, Oakbrook, IL
Illinois Holocaust & Education Center, Skokie, IL
Illinois State Museum, Springfield, IL
Spurlock Museum Free everyday, Urbana, IL