Staples: Free Tech Recycling Get $10 off.
During the week of November 12-18, 2017, take your outdated tech to Staples for recycling and you'll get a $10 off $30 coupon(it was $20 last year) that you can use in December. Coupon will be printed on the receipt when items are recycled. Find a store.
$10 coupon uses are extremely restricted
I did this last year and the coupon is very restricted. You can't use it for printer cartridges, anything tech, sale items, etc. You can still use it for paper, jump drives, office supplies, cleaning supplies, etc. I believe I bought legal pads and Sharpies and using the coupon the prices were still lower than Amazon. Before you shop print out the online prices because I find in-store prices are almost always higher than online. The Terms and Conditions of the $10 off coupon are in the image below.
It's still free tech recycling
Even if you can't find anything to use the coupon this is still an opportunity dump off some old tech junk that's laying around.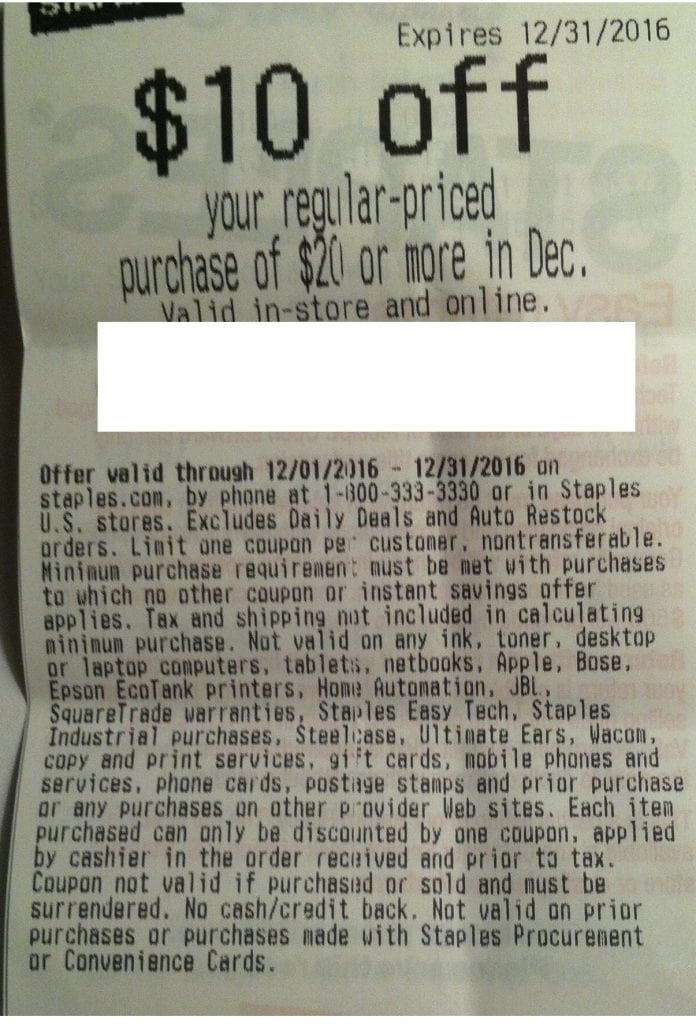 Computers & Printers
All-in-ones
Desktops
Laptops
Monitors
Copiers (desktop)
Fax machines
Printers (desktop)
Scanners (desktop)
Tablets & Mobile Tech
Camcorders
Digital cameras
eReaders
External hard drives
Gaming devices
GPS devices
iPod®/MP3 players
Mobile phones
Tablets
Other Technology
Cable/satellite receivers
Calculators
CD/DVD/Blu-ray players
Computer speakers
Cordless phones
Digital projectors
Keyboards and mice
Modems and routers
Shredders
Small servers
Stereo receivers
UPS/battery backup
Video streaming devices
Not accepted:
TVs and appliances
Floor model printers and copiers
Large servers
Kitchen electronics
Lamps and bulbs
Large speakers and speaker systems
Limit of 7 items can be recycled per customer per day. All items must be recycled on the same transaction. Limit of one coupon per customer per day. Store management has the right to refuse to accept items that may pose a health or safety risk.