Starbucks Happy Hour Deal Dec 14-16. Starbucks has been offering Happy Hour deals almost every Thursday or Friday beginning at 3PM with either 50% off a specific beverage or a BOGO free offer.  This week it's a BOGO any handcrafted espresso beverage (grande or larger) or hot chocolate– all weekend! 
The offer is automatically loaded into your account.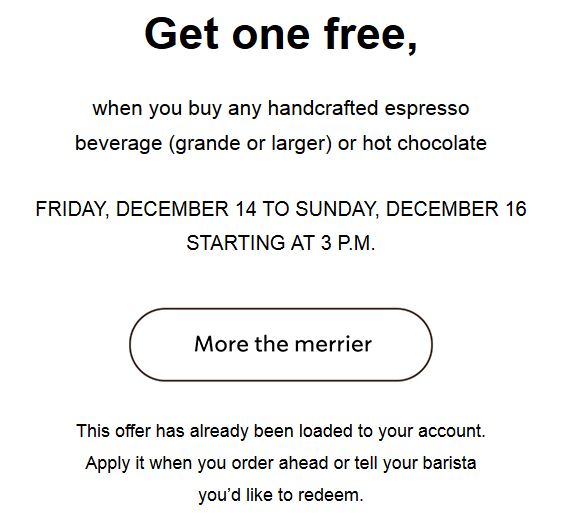 Anyone can sign up for the deal not just Starbucks Perks members
As a member of Starbucks Perks the offers just show up in your account. Now if you're not a member,  you can still take advantage of the deal by signing up at here.  Then, usually a day or two before a happy hour special, you'll get an email about that weeks deal. You'll be sent a one-time use discount barcode to scan at check-out, which you can print or show on your phone.
Apply it when you order ahead or tell your barista you'd like to redeem.  Valid at participating stores. Cannot be combined with any other offer or discount.
Find more restaurant deals and coupons here.
Chicago Loop Locations:
Macys – Chicago/Lower Level, 111 N. State St.
Macys – Chicago/First Floor, 111 N. State St.
Block 37, 108 N. State Lower Level
66 W. Washington – Daley Plaza
25 East Washington Blvd
Block 37 108 N. State Street Lower Level
Clark & Randolph – CT&T Building 161 North Clark Street
Clark & Madison 70 W Madison St.
40 W. Lake Street – Leo Burnett Building
Chase Tower Chicago – 21 S Clark St
68 E. Madison
8 North Michigan
35 East Wacker Drive
Lake & LaSalle – 180 N. LaSalle St
Randolph & Wells – 171 W. Randolph
Millennium Station – Underground – 151 N. Michigan Ave.
LaSalle & Monroe – 39 S. LaSalle Street
Palmer House Hilton – 17 E Monroe St
State & Adams – 131 South State, Suite 210
225 N Michigan – Illinois Center
Madison & Wells – 200 West Madison
105 W. Adams
30 West Madison
200 S. Michigan Avenue
227 W. Monroe – AT&T Building
231 S LaSalle St
200 E. Randolph – Aon Center
200 West Adams
55 East Jackson Blvd.
150 North Wacker Drive
Merchandise Mart
430 N. Clark
Blue Cross Blue Shield – 300 East Randolph Street
209 W. Jackson
100 S. Wacker Drive
233 S Wacker Drive – Willis Tower
175 W. Jackson Blvd
444 North Michigan
Two North Riverside Plaza – 400 W. Madison
Grand & Wabash – 515 N State St
10 S Riverside Plaza
311 S. Wacker Dr.
Intercontinental Hotel-Chicago-Lobby
505 N Michigan Ave
414 N. Orleans
Embassy Suites, 600 N. State Street
555 S. Dearborn – Dearborn Park
Washington & Clinton – 40 N. Clinton St.
Loews Chicago Hotel – 455 North Park Drive
Ontario & Wabash – 38 E. Ontario St.
Clinton & Adams-Metropolitan Place, 139 South Clinton
Marriott Courtyard Chicago – 165 E Ontario St
Target – 1154 S Clark Street
Target – 1 S. State Street