Starbucks: Earn 300 points with Chase Pay.
To earn these 300 bonus Stars you will need to make a purchase using the Chase Pay app at a participating Starbucks by March 19, 2018.  300 points gets you two free Starbucks menu items at 125 Stars each and is enough to earn you Starbucks Gold status if you aren't yet a Gold member.
Download Chase Pay app
First download the Chase Pay app to your smartphone. You will need your regular Chase.com login info.   You should see an offer for 300 bonus Starbucks Stars on the Chase Pay homepage on the app that says "Offer Earn Stars".
Load Starbucks offer into your Starbucks account
Click on the Starbucks Stars offer to activate, and you will be directed to link your Starbucks account login. I could not get the login to work until I turned off my pop-up blocker on my phone.  Once you complete the login you should  get a message that you've signed up and will earn 300 bonus Stars when you use Chase Pay at a participating Starbucks by March 19, 2018.  Enjoy your free Starbucks!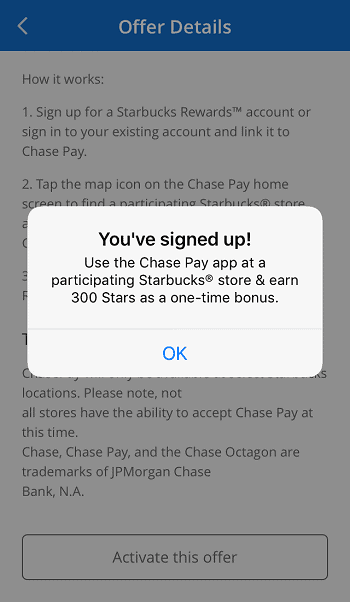 Chicago Loop Locations:
Macys – Chicago/Lower Level, 111 N. State St.
Macys – Chicago/First Floor, 111 N. State St.
66 W. Washington – Daley Plaza
25 East Washington Blvd
Clark & Randolph – CT&T Building 161 North Clark Street
Clark & Madison 70 W Madison St.
40 W. Lake Street – Leo Burnett Building
Chase Tower Chicago – 21 S Clark St
68 E. Madison
8 North Michigan
35 East Wacker Drive
Lake & LaSalle – 180 N. LaSalle St
Randolph & Wells – 171 W. Randolph
Millennium Station – Underground – 151 N. Michigan Ave.
LaSalle & Monroe – 39 S. LaSalle Street
Palmer House Hilton – 17 E Monroe St
State & Adams – 131 South State, Suite 210
225 N Michigan – Illinois Center
Madison & Wells – 200 West Madison
105 W. Adams
30 West Madison
200 S. Michigan Avenue
227 W. Monroe – AT&T Building
231 S LaSalle St
200 E. Randolph – Aon Center
200 West Adams
55 East Jackson Blvd.
150 North Wacker Drive
Merchandise Mart
430 N. Clark
Blue Cross Blue Shield – 300 East Randolph Street
209 W. Jackson
100 S. Wacker Drive
233 S Wacker Drive – Willis Tower
175 W. Jackson Blvd
444 North Michigan
Two North Riverside Plaza – 400 W. Madison
Grand & Wabash – 515 N State St
10 S Riverside Plaza
311 S. Wacker Dr.
Intercontinental Hotel-Chicago-Lobby
505 N Michigan Ave
414 N. Orleans
Embassy Suites, 600 N. State Street
555 S. Dearborn – Dearborn Park
Washington & Clinton – 40 N. Clinton St.
Loews Chicago Hotel – 455 North Park Drive
Ontario & Wabash – 38 E. Ontario St.
Clinton & Adams-Metropolitan Place, 139 South Clinton
Marriott Courtyard Chicago – 165 E Ontario St
Target – 1154 S Clark Street
Target – 1 S. State Street
Target – 401 E. Illinois