Volunteer at Wooded Island. 
When: 4th Saturday, May 27, June 24, July 22, August 26, Sept. 23, 2017 10AM-1PM
Contact Jerry Levy at sjlevy@jeromelevylaw.com with questions.
Where: 6401 S. Stony Island.  Enter Wooden Island through its southern entrance as all other access points remain blocked off including the Darrow Bridge. Map. There is a lot nearby off 63rd/Hayes east of Cornell, but street parking is free. Metered parking is available in nearby lots.  Get rates and additional information.
Wooded Island is a beautiful hidden gem located in between two lagoons in Jackson Park. It was closed for over a year while it was rehabilitated by the Army Corps of Engineers.
Get out in nature and help out with mulching a walking path on the recently renovated island.  Many public parks in the metropolitan area rely on the help of volunteers to do routine maintenance projects because their budgets have been cut or are non-existent. If you've thought about checking it out head out, get some exercise and then explore the rest of the island. Check out this video about the island.
__________________________________________________________________________________________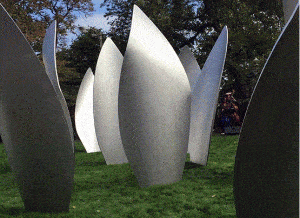 Yoko Ono

In 2016, Yoko Ono installed Sky Landing on Jackson Park's Wooded Island.  This gift to Chicago is her first permanent public artwork in the Americas.  The sculpture was made possible, in part, by Project 120 Chicago.

About Jackson Park (from Chicago Park District)


Located in the Woodlawn community, Jackson Park totals 542.89 acres and features a gymnasium, three multi-purpose rooms, and fitness center. Green features of the park include Wooded Island, (which include the Japanese styled Osaka Garden), Bobolink Meadows, and a vegetable and flower garden. Outside, the park offers three harbors, 63rd St. Beach, basketball/tennis courts, multi-purpose fields, golf course, golf driving range and an artificial turf field.
History

In 1869, the renowned designers of New York's Central Park, Frederick Law Olmsted and Calvert Vaux, were hired to lay out the 1055-acre park. Known originally as South Park, the landscape had eastern and western divisions connected by a grand boulevard named the Midway Plaisance.

The eastern division became known as Lake Park; however, in 1880 the commission asked the public to suggest official names for both the eastern and western Divisions. Jackson and Washington were proposed, and the following year, Lake Park was renamed Jackson Park to honor Andrew Jackson (1767-1845), the seventh president of the United States.

In 1890, Olmsted and Daniel H. Burnham laid out the World's Columbian Exposition fairgrounds. After it closed in October 1893 the site was transformed back into parkland. Jackson Park featured the first public golf course west of the Alleghenies, which opened in 1899.