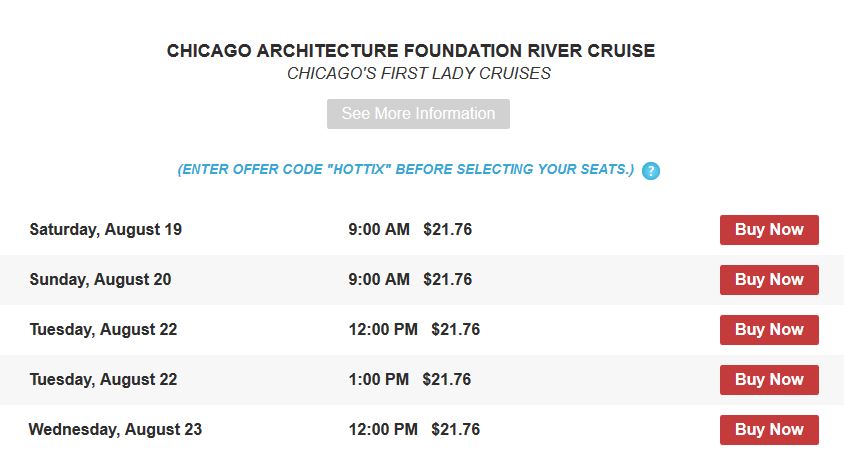 Discount Chicago Architecture Foundation River Cruises.
The Chicago Architecture Foundation (CAF) River Cruises are excellent, extremely popular and quite expensive. If you buy tickets online from the CAF (through Ticketmaster), depending on the day and time of the cruise prices are more than $50 including fees. There are several ways to save money on tickets. Search here.
Save by buying direct
If you buy tickets directly from the CAF box office at 224 S. Michigan or directly at the boat dock at the southeast corner of Michigan Ave. and Wacker Drive you can avoid the Ticketmaster fees of approximately $11 per ticket.
Save 50% from Hottix
Thanks to a tip from an astute reader Hottix offers 50% tickets from time-to-time! The dates and times are very limited but 50% off is worth adjusting your schedule if necessary. Also if you buy direct from a Hottix booth you save the $3 per order online fee.
Price Comparison
As an example for the Saturday, August 19, 2017 9:00AM cruise one adult ticket was:
$57.48 including fees online through CAF/Ticketmaster.
$46.53 from the CAF box office or at the dock.
$31.35 online from Hottix.
$28.35 from the Hottix booth.
Your results may vary. The Hottix website is buggy. I actually couldn't get the purchase to go through online while writing this post! They recommend that you "try to turn off the pop up blocker in your browser and re-load HotTix.org to try again".
New 50% off cruises post on Mondays
Per Hottix, they post all cruises on Monday each week so that's the day when the most options will be available. If you want to save approximately $28 per ticket just keep checking online frequently or hit the booth as soon as it opens on a Monday.
Hottix booth locations
72 E. Randolph (Between Michigan Avenue and Wabash Avenue, across the street from Chicago Cultural Center). Open Tuesday-Saturday 10am-6pm and Sunday 11am-4pm
108 N. State (in Block Thirty Seven Shops on State, first floor Guest Services) Open every day: Monday-Saturday 10am-6pm and Sunday 11am-5pm.
Enjoy your discount cruise!