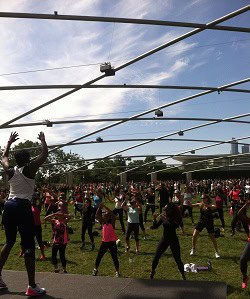 Free Saturday morning workouts at Millennium Park.
Kick off your summer weekend with a FREE morning workout on the Great Lawn of the Jay Pritzker Pavilion in Millennium Park.  Workouts are open to people with all levels of experience.
When: Every Saturday, June 3-September 2, 2017,  7 – 11 a.m.
Where: Millennium Park, Jay Pritzker Pavilion, 201 E. Randolph St. Great Lawn.
These free sessions include:
Saturdays (All classes are 45 minutes):
Pilates 7am
Yoga 8am
Strength Training 9am
Zumba® 10am
June 3 Schedule only
(gospel music themed workouts, part of the Chicago Gospel Music Festival)
7am – Yoga, Instructor: Marta Bailey, Dunamis Yoga (Gospel Music Yoga)
8am – Gospel Music Cardio Workout, Instructor: LaTonya Ellis
9am – Pilates, Instructor: East Bank Club
10am – Zumba®, East Bank Club
Saturdays, June 11–25
7am – Pilates
8am – Yoga
9am – Strength training
10am – Zumba
___________________________________________________________________________________________
About Millennium Park
Millennium Park was once an industrial wasteland. From the 1850s until 1997 the land where the park is located was controlled by the Illinois Central Railroad.

Chicago architect Daniel Burnham considered the railroad's control of the area permanent and design the Grant Park portion of his 1909 "Plan for Chicago" around it.

The area, which was covered with unsightly railroad tracks and parking lots throughout the 20th century.

Millennium Park was first conceived in late 1997 by former Mayor Richard M. Daley as a new public space for residents of Chicago. The original plan called the traditional Beaux Arts style of Grant Park.

When it became clear that due to the city's finances the park had to be primarily funded by the private sector the plans changed. Over time the philanthropists changed the design and vision of the park because they were paying for it.

As you can see nearly every element of the park was sold for the naming rights to corporations or individuals.

The project evolved into featuring a collection of artists, architects, planners, landscape architects and designers.

Today, the 24.5-acre Millennium Park has allegedly become a more popular tourist attraction than Navy Pier.

Learn more about Millennium Park's conversion into a state-of-the-art public space with Chicago Public Library's digital photography collection: Millennium Park.