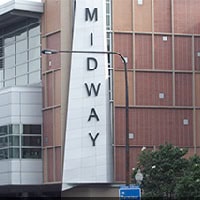 Getting to and from Midway Airport. Midway Airport is located approximately 11 miles southwest of downtown Chicago.  There are multiple transportation options available to the city: public transit, airport shuttles, taxicabs, biking and Uber.
Note: This information was accurate when it was published, but can change without notice. Please be sure to confirm all rates and details directly with the companies in question before planning your trip.
To find information about Midway and the City of Chicago, look for information booths manned by volunteers throughout the airport.
Things to do at Midway Airport.
Public transportation
The least expensive and fastest option is to take the Orange Line L train (the "L" as in elevated) into the city.  The station is located just east of the airport terminal building at the Midway Transportation Center and is connected to the airport via an enclosed walkway. Follow the signs in the airport that read "CTA Trains" or "Trains to City."   An orange line painted on the ground will guide you to the station.
How to ride the CTA here.
The Orange Line train service operates from approximately 4-4:30 a.m. to approximately 1:00 a.m. every day with more frequent service during weekday morning and evening rush hours. Alternate overnight ("owl") service is available via the N62 Archer bus. Orange Line trains operate from Midway to downtown via elevated tracks. Once reaching downtown, trains travel clockwise around the Loop and make all stops back to Midway. The Orange Line connects to most other CTA train lines.   The normal travel time from Midway to downtown is 20-25 minutes.
If you are staying outside of the Loop you may have to connect to another train or bus. Check the CTA routes and schedules here.
Uber
There is one terminal at MDW. Choose your pickup location when prompted by the app.
There are two ways to meet your driver.
Riders requesting uberX, uberXL, and UberSELECT must meet their driver upstairs on the Departures level. Exit through Door 1.
Riders requesting UberBLACK or UberSUV, must meet their driver downstairs on the Arrivals level.
When requesting uberX, uberXL, or UberSELECT at the airport, meet your driver at the "Rideshare" signs outside of Door 1 upstairs on the Departures level. Uber recommends contacting your driver using the app to confirm your pickup location.
Shuttle Services
GO Airport Express offers door-to-door service to and from Midway and most city and suburban neighborhoods from 6 a.m. to 11:30 p.m. Departures are about every 15 minutes. Please call Go Airport Express directly at the numbers below for specific departure information.  The fare to the city from Midway is approximately $27.
Go Airport Express is located at lower level Arrivals door #3. The pickup location is located outside door #3 on the inside lane. Lift-equipped vehicles are available on request for passengers with disabilities. Advanced notice is strongly suggested.   To contact Go Airport Express, call 773-247-1200 or 888-284-3826, or visit their website. 
If you sign up for an account with Go Airport Express they will send you a 10% coupon code from time to time.  Also google "Go Airport Express promo code" for a link.  You can usually save a couple bucks per ride.
Members of AAA receive a 10% discount. You will have to provide your AAA membership number.
Taxi Cabs
Taxi stands are located on the lower level curbfront of the terminals, and taxis are available on a first come, first serve basis. To ensure you have a licensed taxi driver, please be sure to use the taxi stands. For your protection, per the City of Chicago, do not accept rides from drivers outside the cab stand or in the departure area of the terminal roadways. All taxis should have a working meter to calculate the fare based on time and mileage.
Depending on the time of day the drive to or from downtown can take anywhere from thirty minutes to an hour and a half.  During the morning and afternoon rush hours, during a weather event such as rain or snow, or if there is major construction going on the Stevenson Express the ride out to or from Midway can take as long as an hour and a half. Chicago taxi meters are based on time and distance. The longer you sit in traffic the higher the fare.  An average fare from Midway to downtown Chicago is $28-30.  For current fare information, please check the City of Chicago taxi passenger information website.
Shared ride service is available to those who wish to share a ride and pay a flat rate to certain destinations if multiple parties are available for the trip. Shared ride fares from Midway include:
Downtown ($18 per person)
McCormick Place ($18 per person)
O'Hare International Airport ($35 per person)
Car rental
You don't need a car in downtown Chicago. Overnight valet parking at most hotels can be as high as $65 or more per night.   Virtually every areas of the city is served by some form of public transportation. If not you can use Uber or taxicabs.
Midway International Airport offers a variety of options for vehicle rentals. Midway's New Rental Car Facility hosts all of its rental companies in one convenient location. The New Rental Car Facility is located at 5150 W. 55th Street. Passengers can access the rental car shuttle pick up at the Arrivals curb front which is located near lower level door #3 outside of Baggage Claim.
For specific information on hours of operation, please contact the individual rental car companies.
Biking to the airport – There are two ways to do this. You can secure your bike at the nearest CTA station and take the Orange Line to Midway. Or Bike to the Midway CTA Station bike racks and secure your bike there.  I'm not clear on how long you can leave your bike there and how you bike with luggage but there it is.