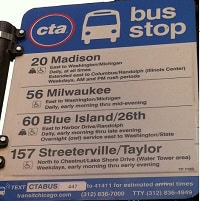 We're lucky to have a fantastic public transportation system in Chicago.  You can get almost everywhere in the city (and some suburbs) on a train or bus.  Chicago's  'L' (L stands for elevated) system has eight rapid transit routes and consists of 146 stations over approximately 224.1 miles of track. Parts of the 'L' run above ground, in subway tunnels and tubes, as well as at grade or in expressway medians. Two routes—the Red and Blue Lines—operate 24 hours, every day.
The CTA uses Ventra as it's payment system.  You can get Ventra Cards at any Ventra Vending Machine in 'L' stations, Ventra Retailers around town, online or by phone. These contact-less cards are easy to load and easy to use—you just tap and go.
Ventra Cards cost $5, but the cost is returned to you as value as soon as you register your card–online (by computer or smartphone) or by phone. Transit value can be used for rides on buses and trains, or applied toward the purchase of a pass.  You can use cash in stations to load your Ventra card or your credit card online. Always take your Ventra card out of your wallet to tap on the bus or train reader. Readers can pick up some credit cards in your wallet so Ventra may not charge the correct card.
Visitors can obtain a temporary Ventra ticket from the Ventra fare machines at Midway and O'hare.  Read How to get to/from O'Hare and Midway.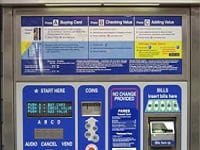 Ventra Tickets are a disposable fare option. These paper, contact-less tickets are vended from machines in every station and can be a great option if you're just visiting or are an infrequent rider .
Ventra Tickets are good only for a limited time and cannot be loaded again once used up. There are single tickets and three passes available that visitors should consider:
Single-Ride Ticket: $3
Includes a full fare and two transfers (a $2.50 value), plus a $0.50 limited-use media fee.
1-Day Ticket: $10
Good for unlimited rides for 24 hours.
3-Day Pass: $20
Good for unlimited rides for 3 days.
7-Day Pass: $28
Good for unlimited rides for 7 days.
These Ventra Tickets are good only on CTA.
The basic fare for the 'L' or the subway is $2.25 ($5.00 from O'hare).  Free transfer between all 'L' routes is available at designated locations (see route guides or maps for free transfer locations).
If you transfer to a bus it costs $.25.  A transfer is good for up to 2 additional rides within 2 hrs.
You cannot pay your fare in cash to board the L.
The basic fare for the bus is $2.00.  You can also buy a transfer.  It will deduct the .25 from your card when you board another bus.  You can pay your fare in cash when you board the bus.  The cash fare is $2.25 and the driver does not have change.
Cheap tip:  If you just need to run a couple of quick errands you can ride round trip for the cost of one fare and a transfer or $2.25
The CTA offers a bus (and rail) tracker here.  Or when you arrive at a bus stop text "CTABUS" (no quotes) a space and the bus stop number to 41411 to get approximate bus arrival times.
Here are all CTA fares.
When you board the L or the bus move to the back.  Do not congregate at the front. This blocks the ingress and egress of other riders and slows everything down.
Safety
As noted the CTA goes virtually everywhere.  Before you hop on to go somewhere familiarize yourself with where you're going.  Some trains traverse unsafe areas and it may safer to ride the bus through those areas.  Some buses traverse unsafe areas and it may be safer to travel via taxi.  Read your guidebook and look at a map before just hopping on.  Chicago is a very safe city (contrary to what you hear on the news) but you should know where you're going and utilize common safety precautions such as not wearing expensive jewelry, flashing cash and expensive electronic equipment.  If you are using expensive electronics don't sit near the doors.  Thieves will grab your stuff just as the doors are closing and run off the train.  Bye bye.
Also while the red line and blue line operate 24 hours it isn't always safe to travel at odd hours.  Some L platforms can be deserted at off hours, on weekends and on holidays.  You may want to exercise caution if you are traveling outside of rush hour (6AM-10AM and 3PM-7PM).  I personally don't ride the L after 7PM unless I'm coming back from a Cubs game (Red line).  If my plane lands after 7PM on a weekday I take the airport shuttle or a taxi downtown.  On Sunday's I won't ride it back from the airport after dark in the winter.  Some people feel comfortable riding the L at all hours.
Buses to popular destinations in and around downtown (check links for details):
10 – The Museum bus starts behind Water Tower Place and runs down to the Museum of Science and Industry. Runs in summer only and daytime hours. Also runs Nov. 23-Dec. 31 see schedule for details.
20 – The Madison bus runs west down Madison to the west Loop and Greektown and beyond.  Get off at Halsted for Greektown.  Beyond that it runs to the United Center and into less safe areas.  There's also the 19 which runs specifically for certain events at the United Center.
22 – The southbound Clark Street Bus runs to the south Loop.  The northbound bus run north Lincoln Park and to Wrigley Field and beyond.  If you are going to Lincoln Park ride the Red or Brown line (stops vary by specific destination).  To Wrigley ride the Red line to Addison.  It's faster.
29 – The State Street bus runs south into the South Loop and north and east to Navy Pier.
36 – The Broadway bus runs north to Lincoln Park and south into the South Loop.  You can get to Lincoln Park faster by riding the Red or Brown line (stops vary by specific destination).
56 – This bus runs to Wicker Park and Bucktown down Milwaukee.  You can get to both faster by riding the Blue Line to California or Damen (depending on your final destination).  This is a good option to return from Wicker Park or Bucktown at night until 10PM-11PM depending on day and direction.
65 – The Grand Avenue bus travels east and west and terminates on the east at Navy Pier.
66 – The Chicago Avenue bus travels east and west and terminates on the east at Navy Pier.
72 – The North Avenue bus extends its route out to the North Avenue Beach house in summer.
78 The Montrose Bus extends its route out to Montrose Beach in summer.
124 – Navy Pier bus runs between Union/Ogilvie Stations and Navy Pier.
128 – Soldier Field Express runs nonstop between Ogilvie Transportation Ctr., Union Station & Soldier Field for Bears Games. Special round-trip cash fare $5 full fare / $2.50 reduced (cash or Ventra Card only).
130 – Museum Campus bus runs between Ogilvie/Union Stations east to Museum Campus.  You can pick it up at Adams and State to go to the Museum Campus.  Only runs in summer and daytime hours.
146 – This bus can be picked up on southbound Michigan Avenue from Delaware to before Wacker Drive and on State Street and goes to the Museum Campus including the south end of Soldiers Field, Field Museum, Shedd Aquarium and Adler Planetarium.
147 – This bus goes down Michigan Avenue between Water Tower and Congress Parkway and stops at Millennium Park.
151 – This bus goes down Michigan Avenue between Union Station and Water Tower and stops at Millennium Park.  If you take it north of Water Tower it stops at the Lincoln Park Zoo.
156 – The LaSalle bus runs weekdays only through the Loop and north into the Gold Coast.
157 – This bus goes down Michigan and then turns east at Ohio and heads into Streeterville. It only runs on weekdays.
L stops to popular destinations from downtown (check links for details):