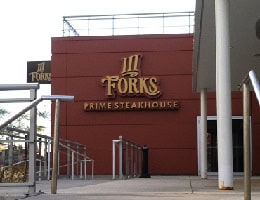 III Forks Prime Steakhouse Monthly Wine Down
When:  First Wednesday of the month ,5:00-7:00PM
Where: Lakeshore East, 180 N. Field Boulevard RSVP 312-938-4303. Map below.
The restaurant, as well as a variety of wine representatives, will pour and discuss six different wine.  The wines vary from month-to-month. See schedule below. Passed appetizers are also included. Cost $20
Other info:
III Forks offers a happy hour M-F 4-6PM. 1/2 off draft beer and select cocktails and $1 oysters.
In summer they also have a rooftop deck

with a beautiful view overlooking Lake Shore East Park.

Consolidated Restaurant Operations owns the III Forks chain as well as the Cantina Laredo chain. The interiors are fairly similar with the long and low fireplaces and light brick and tile.