Lettuce Entertain You is hosting a wine down at Foodlife in Water Tower Place. Enjoy tastings of 20 wines, complimentary small bites plus $5 off your meal at Foodlife for $20.
When: Friday, Oct 7, 2016, 6-8PM
Where:  Water Tower Place , 835 N. Michigan Avenue, Mezzanine Level, Stir-Fry Deck, 312-335-3663
I've attended this.   They have one almost every month.  It's fun if you go with a group.  The event takes place in a cordoned off area of Foodlife.  There's high top tables but no seating.  They provide racks so you don't have to carry your coat around.  When you're done sampling you can exit the area and reenter Foodlife to dine.  Foodlife closes at 8:30pm so you should leave the event early if you want to sit down and eat otherwise you can either take something to go or use the $5 certificate at a later date.  Also as of August 2016 Foodlife offers a special BBQ sandwich for $5 every Friday. Cheers!
____________________________________________________________________________________________
Foodlife is a part of Lettuce Entertain You Enterprises (LEYE).  If you aren't a member of LEYE's Dining program consider joining.  Here's how it works:
Lettuce Entertain You:  You earn 1 point for every dollar spent (not including tax and tip).  When you accumulate 140 points you earn a $10 award which will be automatically added to your account. The award dollars can only be used for dining, not for tip.  You can earn the points by:
Using a credit card registered to your account
Give them your LEYE membership card and they will add the points to it.
Download the LettuceEats app, check into your Lettuce location, write the four digit mobile code on your check, and your points will automatically be added to your account.
It costs $25 to join but you will receive $10 in dining rewards after each of your first 3 visits to any Lettuce Entertain You Restaurant. So you get $30 in dining rewards for a $25 enrollment fee. They send you an annual birthday reward of around $10-$15.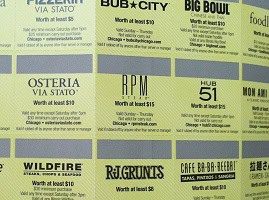 During the summer they have a very popular promotion Summer Scratch off where you earn double or triple points at their restaurants or actual dollars off for dining at most of their restaurants from mid-July to September 28.  From time-to-time throughout the year they have bonus point days where you earn double or triple points.  Some of the restaurants in the group: Three Dots and a Dash, Hub 51, Frankie's, Joe's Stone Crab, Shaw's, Beatrix and more.
Save money dining with Loyalty Programs