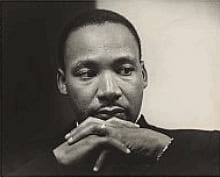 Martin Luther King Day Chicago events: Attend FREE events throughout the city to commemorate Dr. Martin Luther King.
The following institutions are offering "Free" Days on Monday, January 15, 2018. As always be prepared to show ID for proof of IL residency. 2018 Free Museum Days
To keep up with the latest news on deals, discounts and free events in Chicago, sign up for the daily Chicago on the Cheap newsletter. You can also follow us on Facebook and on Twitter.
Free Museum Days
Adler Planetarium, 1300 S Lake Shore Dr., 312-922-7827.
Here's the deal on Free Day at the Adler Planetarium.
Art Institute of Chicago, 111 S Michigan Ave., 312-443-3600.
Guide to the Art Institute of Chicago. Gallery Talk: Modern Wing Highlights, 12:00PM–1:00PM
Free Family Fun at the AIC, Art Institute of Chicago, Ryan Education Center. 10:30AM–3:00PM.
Raise your voice in celebration of Dr. Martin Luther King Jr.'s legacy. Through storytelling and art making, reflect on the past and imagine what we can do to create our future together. Join artists, storytellers, and families from around Chicago for this day of creativity, justice, and peace.
•Reflect on the past and envision the future through family storytelling and multimedia art making.
•Hear poets ages 9–14 from the award-winning Reborn Poetry Ensemble perform original work in tribute to Dr. King.
•Engage in teen-led conversations and experience the museum's collection in new and unexpected ways.
Chicago History Museum, 1601 N Clark St., 312-642-4600. Free days allow access to the entire museum.
Commemorate the life and legacy of Dr. King at this family-friendly event. Enjoy a production of The MLK Project: The Fight for Civil Rights by Writers Theatre and a musical performance by the Chicago Chamber Choir along with storytelling and crafts that reflect Dr. King's messages of peace and justice.
Field Museum, 1400 S Lake Shore Dr., 312-922-9410
What you get on free day at the Field Museum
Lincoln Park Zoo (Always FREE). 2001 North Clark Street, 312-742-2000.
Museum of Science and Industry, 5700 S Lake Shore Dr., 773-684-1414.
What you get on Free Day at the MSI.
Black Creativity Family Day. Events that are included in Basic Museum Entry. Explore the opening of the Juried Art Exhibition, participate in a collaborative printmaking project that will be displayed at MSI, and meet working STEM professionals during 30-minute Jr. Science Cafes.
Shedd Aquarium, 1200 S Lake Shore Dr, 312-939-2438. The Shedd has extended hours until 6pm on MLK Day.
What you get on Free Day at the Shedd Aquarium
National Day of Service
If you're lucky enough to have the day off of work you may consider volunteering for various service projects.  Search for opportunities here.