Discount dining at Revival Food Hall.
I recently dined at Revival Food Hall and discovered that they participate in the Ritual Take out app.  If you're not familiar with the Ritual app basically you use it to order takeaway and pick up in a special line bypassing the regular line.  When you sign up through my link you'll will get $5 added to your account immediately and after you make a purchase another $5 will be added.  Read more about Ritual and get $10 free here.
Where: Revival Food Hall, The National Building, 125 S. Clark St.  1st Floor. Menus
Discounts at select Revival Food Hall counters
Several Revival counters are currently offering one time discounts for first time diners.  The discounts are not available during the lunch rush, generally 11:30AM-1:00PM.  If you're not familiar with Revival they have counters where you pick up food and then you locate seating.  Some of the offers that came up for me: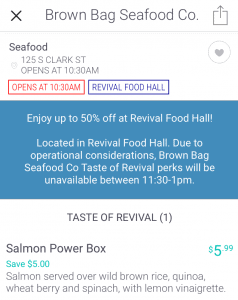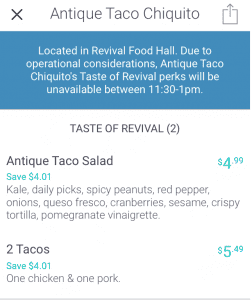 About Revival Food Hall
This is a 24,000-square-foot indoor market featuring 15 fast-casual food stalls, a cafe/bar, a record store and a reading lounge. There's no set theme, like Latinicity, or Eataly,  but rather a curated collection of smaller outposts of existing Chicago restaurants similar to the Chicago French Market.
Now all of us Loop-dwellers, workers and visitors don't have to schlep to on the L to enjoy the great food these restaurants serve!  Prices are higher than the original outposts but downtown real estate is more expensive.  You'll save at least an hour not having to ride the L to Wicker Park, Ukrainian Village etc.
Current Revival counters
Aloha Poke Co. This pricey-poke restaurant has locations at the Chicago French Market and Lakeview. Menu
Antique Taco Chiquito: A smaller version of the Wicker Park and Bridgeport taco joint. Fresh and excellent just like in WP. Fantastic!
Black Dog Gelato: This gelato-maker is based in Ukrainian Village and also has a location at the Chicago French Market. Amazing fantastic unique gelatos.
Brown Bag Seafood Co.: Their main location is at in the Blue Cross Blue Shield building at 300 E. Randolph in the LakeShore East neighborhood. They serve sustainable seafood and some respectable tater tots.
The Budlong: Their only location is in Lakeview. This pop-up, which will change periodically, serves Nashville hot fried chicken.
Danke Market: This new restaurant that will offer bread, charcuterie, sandwiches, beer and wine. House made sausage and pates served on fresh baked bread.

Farmer's Fridge: Farmer's Fridge sells fresh salads in vending machines throughout the city. This is it's first  restaurant. Fresh salads, toasts, combos.
The Fat Shallot: This food truck sells sandwiches around the Loop. This is there first restaurant.
Furious Spoon: This ramen shop has locations in Wicker Park and Logan Square.
Graze Kitchenette: This is a new concept from the group that owns the National Building. Their other restaurants are  Dusek's, Longman & Eagle and Moneygun/Saint Lou's Assembly .  Burgers & Bowls.
Smoque: Top rated bbq without having to schlep to the original Smoque BBQ in the Old Irving neighborhood.
Revival Cafe and Bar: a multi-roaster café and bar with both coffee and cocktail programs. Booze prices weren't posted yet. They will also serve Mindy Segal of Hot Chocolate's thin and crispy to-die-for cookies, other baked goods and hot chocolate.
Tribecca's Cubano: pop-up Cubano's from the Honey Butter Chicken Group.
Union Squared Pizza: Detroit-style pizza. Original location in Evanston. Detroit pizza is baked in an 8″x13″ metal baking pan. It's not as thick as deep dish. The crust is crisp on the outside and fluffy on the inside. The mushroom with walnut pesto was very good.