Save money dining with the Ritual App
Ritual allows you to skip the line, place to-go orders and there are never any added fees or mark ups. I checked several restaurants and Ritual prices matched the in-store prices. The selection of participating restaurants is decent.  And the app works really well.  You place your order through the app and pick it up from a special line so no waiting!
Get $10 free for signing up using my link
New Ritual users can receive $10 in free credits to use at participating restaurants ($5 off first order and $5 off second order).
Use my link (Thank you!) or enter Referral Code CAROL2168 when you create your Ritual account. To enter a code after you've already downloaded the app and created your account, simply visit the "More"  to get to the"Promo Codes" section under the Menu within the app.
You'll instantly see the initial $5 credit post to your account after entering the referral code. After you complete your first order with Ritual, the additional $5 credit will be added to your account to use toward your second order.
If your purchase exceeds the credit value in your account, the balance due will be charged to the registered credit card. Enjoy your free food!
How to maximize Ritual
1.  Whenever I'm going to some area and plan to eat I pull up the app and click on the map button at the top right and move over to the area I'm going to.
2.  I type in at the top next to the magnifying glass "Perks" and hit search.
3.  Then I click on "List".
4.  This will give you a list of all the restaurants in the area that are offering deals and discounts (Perks).  Perks can only be used one time.  There are two types of perks.  Perks that require no points to get the discount (see Hannah's Bretzels below).
5.  There are also perks that require points in exchange for the discount. (See Freshii below).
6. I try to find deals that don't require points.  Either way I almost always use a "Perk" where ever I dine.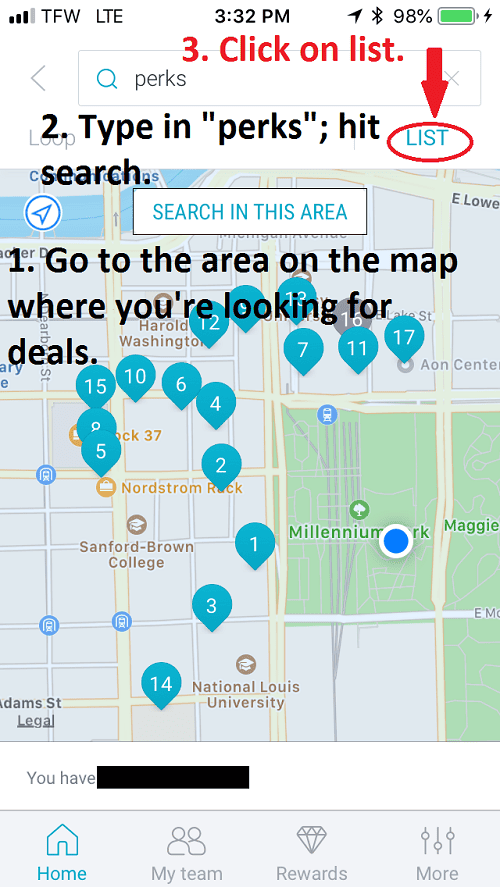 Earn points from many restaurants
The earning thresholds are steep but there are opportunities to earn 5x-20x points. Even if you don't use the app frequently it's still worth signing up and getting $10 free.
You earn points on every order which you can cash in for free food at any participating restaurant. Ritual covers many restaurants so you can dine at different places and still accumulate points toward free food.
You'll earn 10 points per $1 spent on every purchase that you make via Ritual.
You'll earn up to 20 points per $1 spent on every other order at Rewards Plus partners.
Go to "Rewards" "Earn" and find other ways to earn additional points.
You can also get access to Ritual exclusives like secret menus, member-only events, and more.
You can unlock Ritual Elite status with more than 8 purchases a month and get 1.5X the points and more special offers.
Once you've earn 10,000 points, you can redeem them, in increments of 10,000, at any participating restaurant.
Note: There are some Lettuce Entertain You restaurants in Ritual such as Wow Bow and Beatrix. You will not earn LEYE points also.
Summary
Sign up using link (Thank you!). You must also use Apple or Android Pay.
Use the $5 off you receive instantly for signing up against an order.
After your first order the second $5 off will appear in your account. Enjoy your free food!
Follow How to Maximize Savings on Ritual by searching for perks every time you dine.
Happy dining!