The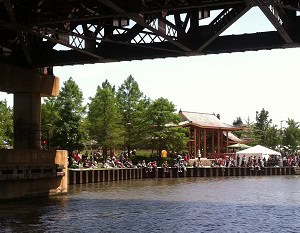 Chinatown Summer Fair this weekend.
When:  Sunday, July 16, 2017, 10:00AM-7:00PM
Where: 2200 S. Wentworth (at Cermak Rd.) to 24th Place
FREE Admission
Consider riding the water taxi to Chinatown from downtown.  Here's a guide.
This iconic and popular annual celebration of Far East Culture returns. Events include the Lion Dance Procession, artisans, great cuisine, activities for families and children, and more.
MAIN  STAGE  ENTERTAINMENT
(23rd Street & Wentworth Avenue) This is 2016 schedule 2017 TBA
11:00 a.m.           Jesse White Tumblers
11:45 a.m.            Fitness Demonstration – Chicago 168 Fitness Team
12:15 p.m.            Zumba Fitness Demonstration
12:30 p.m.            Jungle Breakdancing Class
12:45 p.m.            Lion Dance Procession
1:00 p.m.          Official Welcome/Opening Ceremonies
1:15 p.m.           Musicality – Currie Metro High School
1:30 p.m.            Martial Arts – Ng Family Chinese Martial Arts Assn. Master Sam Ng
2:00 p.m.           Indian Dance – Indian Dance School Ms. Gauri Jog
2:30 p.m.           Chinese Folk Dance/ Fashion Show – Xilin Art Academy
3:30 p.m.           Martial Arts – Shaolin Temple Martial Arts
4:00 p.m.           Japanese Drumming – Taiko Drums Tsukasa Taiko
4:45 p.m.           Brickheadz – Breakdancing
5:15 p.m.           Kollaboration Performers
6:00 p.m.           Live Band
CHILDREN'S AREA
23rd Street & Wentworth McDonald's Family Pavilion & Sampling Truck
24th Street & Wentworth Avenue The Home Depot Children's Workshop
Free Pony Rides and Petting Zoo starts at 1:00 – 7:00 p.m.
Other things to do in Chinatown:
Shopping: Chinatown has great deals on inexpensive knickknacks, lanterns, tiny silk purses, grosses of chopsticks etc.  Try Chinatown Bazaar,  2221 S. Wentworth Ave., 312-225-1088. For cheap Woks 'n' Things try the store of the same name at 2234 S Wentworth Ave, 312-842-0701.
Check out the Chinese-American Museum of Chicago, Raymond B. & Jean T. Lee Center, 238 West 23rd Street, 312-949-1000
Suggested donation $5 for adults, $3 for students and seniors.
Restaurant dining: Many restaurants in Chinatown don't take reservations except for large groups so you'll have to make your way through the crowd and get on the list.  At the minimum try calling ahead to get a reservation.

Lao Sze Chuan is one of the best restaurants in Chinatown but getting in quickly will be virtually impossible. Lao Sze Chuan, 2172 S. Archer Ave., 312-326-5040
If you don't want to wait you could head to the downtown outlet at the Shops at North Bridge, however it's exponentially more expensive than the Chinatown original. Lao Sze Chuan Downtown, 520 North Michigan Ave, Suite 420, 312-595-0888
Another option is MingHin in Lake Shore East (LSE).  Since no one knows where LSE is it doesn't get too crowded, the food is good and the prices are reasonable. MingHin Cuisine, 333 E. Randolph, 312-946-8885
___________________________________________________________________________________________
Chicago Tribune article about Chinatown.
Ping Tom Memorial Park Pictures

Ping Tom Memorial Park's 12-acre site was originally a Chicago and Western Indiana Railroad yard located along the edge of the South Branch of the Chicago River in he Armour Square Community. In 1998, the Chicago Park District began transforming the old rail-yard into a beautiful rolling green space, taking full advantage of impressive river views. The park has a children's playground, community gathering areas, and Chinese landscape design elements.
In June of 2013, the Chicago Park District opened a new boat house in Ping Tom Park.  The boat house offers kayak rentals during the summer season and a public dock that is available for use by non-motorized boats during park hours.  Restrooms are also available to the public when the boathouse vendor is operating.  For details on hours of operation, please visit Urban Kayaks.
In 2002 the District acquired 4.98 acres from the RR (Burlington Northern / Santa Fe) north of 18th Street and west of Wentworth.  Following community planning meetings it was determined that a new field house and athletic ball field would be constructed on the new acreage.  In 2004 the athletic field was completed.
In October, 2013, the Ping Tom Memorial Park fieldhouse was completed and opened to the public.  The fieldhouse offers the community, a multi-purpose gymnasium, 9ft. deep zero depth entry indoor swimming pool, 2 meeting rooms, a state-of-the-art fitness center, men's women and family locker rooms, 2nd story outdoor patio with skyline views, green roof top, elevator and full service kitchen.   In 2015, the fieldhouse was named in honor of the late Advisory Council President, Leonard Louie.