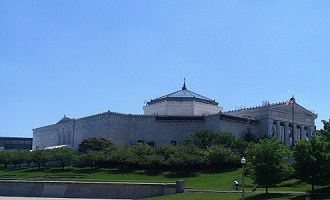 Jazzin at the Shedd Aquarium every Wednesday. Enjoy Jazz, cocktails, amazing lake views, fireworks and admission to the aquarium.
When: Every Wednesday, June 21 to Sept. 13, 2017, 5:00PM-10:00PM (Oceanarium access until 8 p.m. and Wild Reef access until 9 p.m. only).
Where: John G. Shedd Aquarium, 1200 S. Lake Shore Drive, Bill and Stephanie Sick Family Lakefront Terrace
Admission: $18 for adults online. $20 at the door. $16 for children (age 3-11) includes All-Access tickets include Jazzin', the original aquarium, Wild Reef and Oceanarium exhibits.  To purchase tickets, visit here.
For an updated list of performances check their Facebook page or Twitter feed.
Bring your family and friends to Shedd to hear some of the city's finest musicians and vocalists, from straight-ahead jazz to funk, while you enjoy beverages and light refreshments for purchase, lake breezes and the skyline from our terraces. And when the sun goes down, the sky lights up with fireworks from Navy Pier.
Take advantage of our extended hours to visit with your favorite animals—the Abbott Oceanarium and Polar Play Zone will be open until 8 p.m. (last entry 7:45 p.m.). Wild Reef will be open until 9 p.m. (last entry 8:45 p.m.) and the aquarium galleries, along with the terraces, will stay open until 10 p.m.
Feel the wonder with Stingray Touch! Our Stingray Touch experience can be added to your Jazzin' visit for an additional fee of $3. Stingray Touch will be open until 8 p.m. (last entry 7:45 p.m.).