Another Oktoberfest Chicago this time in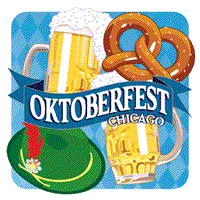 West Lakeview
When: September 23-25, 2016 Friday, 5-10 pm; Saturday, 11 am-10 pm; Sunday, 11 am-7 pm
Where: St. Alphonsus Church, Lakeview, 1429 W. Wellington Ave. (Southport and Lincoln Avenues)
$5 admission on Saturday and Sunday benefits St. Alphonsus Church. Free Admission to those with U.S. military ID + 1 guest all weekend.
15th annual Bavarian celebration in West Lakeview welcomes fall with plenty of food, music, arts & crafts, and activities for children.
Oktoberfest 2016 Band Lineup
Friday, September 23rd
Southport Stage
6pm-7:30pm
Fletcher Rockwell
8pm-10pm
Wedding Banned
Parking Lot Stage
5:30pm-7:30pm
South of 80
8pm-10pm
Catfight
Saturday, September 24th
Southport Stage
11am-noon &
12:15pm-1:15pm
Ed Wagner's Lustige Blaskapelle
1:45pm-2:45pm
The Flat Cats
3:15pm-5:15pm
Hello Weekend
5:50pm-7:15pm
Boy Band Review
7:55pm-9:55pm
16 Candles
Parking Lot Stage
4:30pm-5:45pm
The Bratwurst Brothers
6:20pm-7:40pm
Girl Power Night
8:15pm-9:45pm
The Polkaholics
Sunday, September 25th
Parking Lot Stage
2pm-4pm
Ed Wagner's Lustige Blaskapelle
The Craft Beer tasting sessions will be held in a spirited German beer hall within St. Alphonsus church. The event is limited to 650/night and attendees will choose from over 40 samples of craft beers! The selection of beers is intended to highlight both German-made beers as well as favorite fall seasonal selections. Each participant will receive a delicious pretzel necklace to accompany you on your journey of beer sampling!
Click here to purchase your tickets for Friday or Saturday night.
Kids' KinderFest Two Days
Kinderfest is a great time for 'Fest goers of all ages. Enjoy plenty of kid-centric activities, show the kids how to polka and treat the family to some authentic German food. Its the perfect afternoon for everyone.
Days: Saturday and Sunday, 11:00 am to 4:00 pm